Team Jets: Lauren Devine praises Jersey side's 'character' in victory
Last updated on .From the section Netball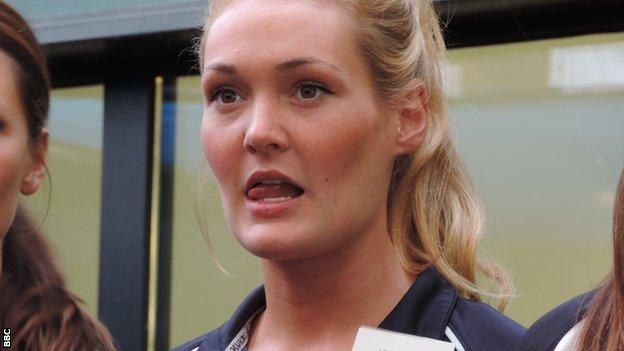 Team Jets captain Lauren Devine says the Jersey side showed "strength of character" in their 55-48 Premier League Two win at home to Ryland.
The Channel Islanders led by 11 goals at one stage but went into the final quarter level with their opponents.
Victory lifted Linda Andrews' side to fourth and keeps them in the hunt for the end-of-season promotion play-offs.
"It was so tough, we made a right spectacle of it - to win by seven was amazing," Devine told BBC Radio Jersey.
"You've got to go down sometimes to get strength of character and learn how to build back up, so we'll certainly learn a lot of lessons from that."
Ryland got promoted along with Team Jets last season and sit second in the table.
Jets have lost just two of their last 10 games and have two regular-season games remaining.
"The home crowd's always a good advantage but sometimes it adds that little bit of pressure - without it it would've been a very different game," added Devine.
"We had a little dip - I think we probably surprised ourselves with such a good start, we weren't used to it."