Team Jets: Abbie Hazley 'happy' with season despite Jersey side's Premier Romans loss
Last updated on .From the section Netball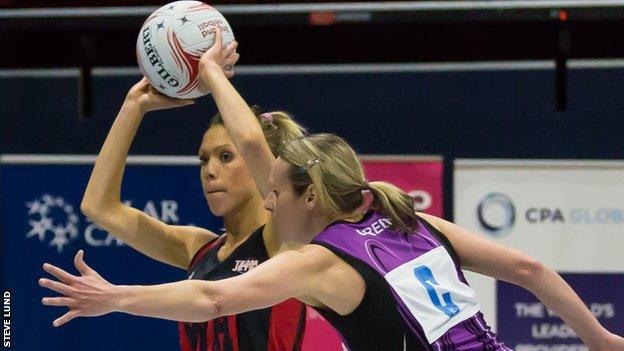 Team Jets wing attack Abbie Hazley says the Jersey side can be "happy" with their season, despite a 48-45 defeat by Premier Romans in their final game.
It means Linda Andrews' side finish fifth in their first season in Premier League Two.
"It was a really good season - we went out to consolidate and that's what we did," Hazley told BBC Radio Jersey.
"At the beginning we were getting used to each other and the new league - it all came together after a few matches."
She continued: "We're in the middle (of the table) which is what we wanted, so we should be happy, take all the positives and learn from the negatives for next season."
Team Jets had gone into their last two matches with a slim hope of reaching the play-offs, but a loss in their penultimate game at Telstars ended that chance.
"We've had a massive learning curve this year and we've done so well to finish so high up in the table," added coach Andrews.
"I'm just so proud of all the girls for what they've put into it and what we've actually achieved."