Team Jets: Linda Andrews says experienced players must step up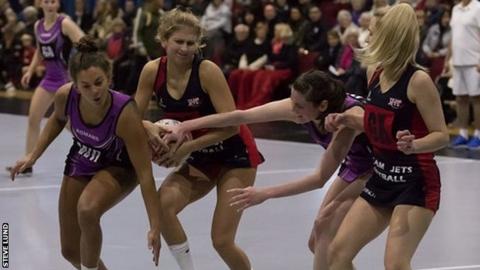 Team Jets' experienced players need to step up and help the club's younger players, says boss Linda Andrews.
The Jersey team lost 49-35 to Premier Romans to find themselves third-from-bottom of Premier League Two.
"The more experienced players around them need to keep step up and support them," Andrews told BBC Radio Jersey.
"Sometimes the play was brilliant, but the moment we started holding on to the ball it gave them the opportunity to stifle us," she added.
Jets, who lost three of their best players in the summer, have won just twice all season and face a fight to stave off relegation.
But Andrews believes that if her younger players do not play, they will never be able to cope at in the second tier of English club netball.
"If the girls don't get the opportunities then we're not going to grow, so we need it, but it's hard to take," she added.
"We've got to keep going back to the drawing board, putting in hard work at training so that we can start executing a bit more clinically."