International Super Cup: Celtic Flames suffer second defeat in New Zealand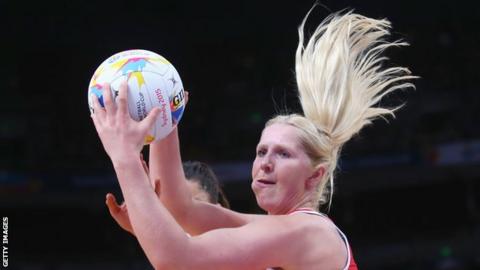 Welsh netball side Celtic Flames suffered their second defeat in the inaugural International Super Cup competition in New Zealand.
The Welsh team lost 66-43 to SkyCity Mystics in their third match in Pool B.
The Flames had defeated Fijian team Marama Vou 68-41 after losing 65-41 to the host nation's Pulse Netball in Nelson in their opening game.
They will face South Africa's Gauteng Jaguars in the rankings play-offs for the eight-team competition.
The Flames have two more matches before the tournament finishes on Friday, 7 July, with teams from Australia and Trinidad & Tobago also joining three leading New Zealand clubs.
Learning experience
Despite two defeats in three group games, Welsh netball chief executive Sarah Jones believes the tournament is benefitting the players.
"To play Pulse and Mystics, the whole reason we're out here is to put ourselves into an environment where we can learn and develop our players and management team" she told BBC Wales Sport.
"The only way we're going to get better as Wales and as a club side (Celtic Dragons) is to test ourselves against the best in the world to try to become the best.
"We've also come away with a great win over Marama Vou, the Fijian side, which is great for us from an international perspective with them (Fiji) being seventh and us eighth."
Kiwi guests
The Welsh team brought in two New Zealand international players for the tournament with Anna Thompson, 31, and 22-year-old Temalisi Fakahokotau joining 10 Wales players in the squad.
Celtic Flames included eight of the Celtic Dragons line-up from the UK Superleague, plus former Dragons Chelsea Lewis and Nia Jones.
Fakahokotau normally plays either goal keeper or goal defence, while Thompson covers all three attacking roles.