England beaten 62-55 by New Zealand and lose series
Last updated on .From the section Netball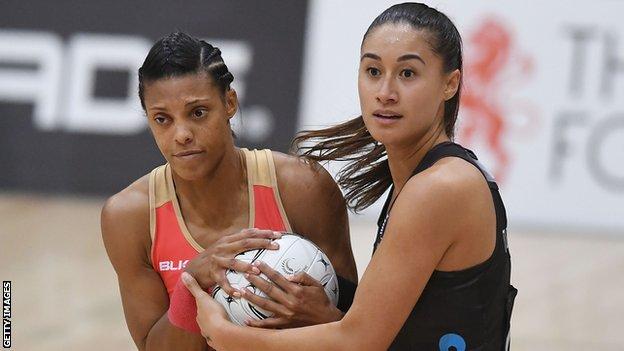 England missed out on a first series win against New Zealand after losing 62-55 in the third and final Test.
The Red Roses had levelled the series at 1-1 with their second win over the Silver Ferns in as many weeks, having also beaten them in the Quad Series.
England led 30-26 at half-time in Hamilton but the hosts took a narrow advantage into the final quarter and moved clear in the last three minutes.
"We made a few errors and they ran away with it," said captain Ama Agbeze.
England had only beaten New Zealand four times in 88 meetings prior to this summer's tournaments.
Tracey Neville's side pulled off a shock 49-45 win in their first match in the Quad Series - which also featured Australia and South Africa - at the end of August.
A week later they lost the first match in the three-Test series against New Zealand 62-55.
The visitors made sure the contest went to a decider with a 49-46 win on Sunday, but they were unable to get the victory they needed to win the series.
"To be here, contesting the last game is a great achievement. Hopefully we'll move forward from here," Agbeze told Sky Sports.
Goal defence Katrina Grant, on her 100th cap for New Zealand, said: "This is the best England side I've ever played against.
"We pulled through - the girls did an amazing job. We've learnt a lot from the losses in the last month."