Sasha Corbin: Hertfordshire Mavericks sign England mid-courter for third spell
Last updated on .From the section Netball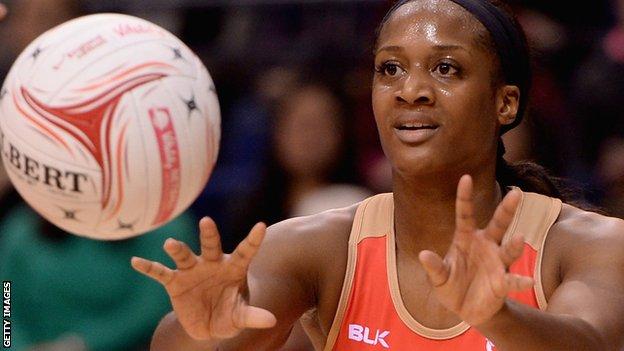 Herefordshire Mavericks have re-signed England international Sasha Corbin.
The 29-year-oldis retuning to the club for a third spell and will also captain the side during the 2018 Superleague season.
She previously played for the Mavericks in 2005-06 and between 2011 and 2015, when she skippered the side for three seasons.
"Mavericks is a club close to my heart, I can't wait to be suiting back up in the black and purple," Corbin said.
Corbin, who has won four Superleague titles, including one with the Mavericks in 2011, spent last season playing in New Zealand with Premiership club Northern Mystics.
"I am truly looking forward to being settled at home, bringing my experience, growing as an athlete and person in a great environment with an exciting new team," Corbin added.
The Mavericks finished seventh in the 10-team Superleague in 2017 and director of netball Kathryn Ratnapala is delighted to welcome Corbin back to the club.
"Sasha is a true Maverick and embodies everything we stand for - flair, excitement, high level skill and the unexpected - keeping fans and opposition on their toes," she said.
"She is a class act and has fantastic leadership qualities and experience to bring to the squad this season."