Netball World Cup qualifiers: Scotland beat N Ireland 52-31 in Perth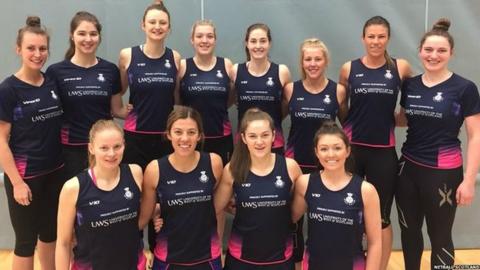 Scotland wrapped up their World Cup qualification in style with a 52-31 win over Northern Ireland in Perth.
Both sides had already assured progress to the 2019 tournament in England with wins over Wales.
The Scots led from the outset, scoring their opening three goals in the first four minutes with skipper Claire Brownie leading the way.
The hosts were 14-6 up by the end of the first quarter and stretched that to 27-14 by the halfway stage.
Northern Ireland were outclassed physically, with superb performances by goal defence Fiona Themann and goalkeeper Hayley Mulheron.
Any momentum the visitors created was quickly scuppered by the Thistles as they entered the final 15 minutes trailing by 18 points.
Northern Ireland, ranked eighth and three places above Scotland in the world, rallied as they approached the final whistle, but failed to bridge the gap despite some strong attacking efforts.
'Steady and patient in attack'
Scotland captain Claire Brownie: "It's such a buzz and a relief at the same time as these events are really nerve-wracking, but we're so glad we came here and we got the job done.
"We're so well matched these teams, you usually come into the final day and there's still a lot riding on it.
"It was a big relief qualifying, but we came here to get two from two, so we really wanted to push on and still win this game.
"Our start was really really good, I thought we won a lot of ball in defence were nice and steady and patient in attack.
"It was just a mix of the whole team coming together, and it was amazing the power when it's seven working together can have on our full performance."
Scotland head coach Gail Parata: "Absolutely delighted, the girls deserved that, especially that last one today. We're off to the World Cup, we wanted to come here and get two from two and we've done that. I'm really really proud of all of them.
"Last time we played Northern Ireland we lost by one goal and we we're really upset by that as we could have won that game. They wanted to have revenge and we wanted to do it at home in front of our family and friends."