Commonwealth Games: Lewis reverses decision over Wales availability
Last updated on .From the section Netball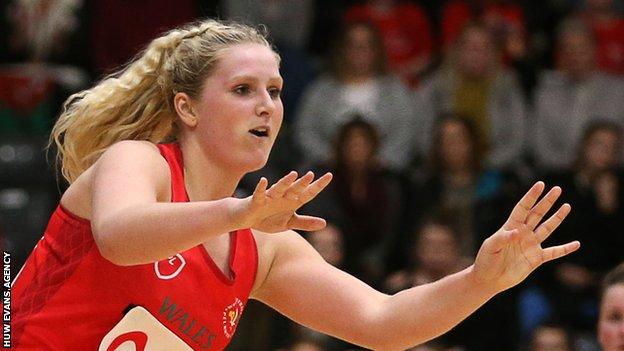 Wales goal-shooter Chelsea Lewis has reversed her decision to take a six-month break from international netball.
Lewis was due to miss the Gold Coast Commonwealth Games, but has now put herself forward for selection.
The 24-year-old's decision came in the wake of recent upheaval with coach Trish Wilcox having left the role after World Cup qualifiers disappointment.
"There has been a change of management which has opened the door back up for me," said Lewis.
"I'm really looking forward to the challenge of getting myself back on that plane [to Australia] again."
Lewis scored 232 times for Wales at the 2015 World Cup in Australia as Wales secured seventh place, their highest finish since 1991.
But she was absent when Wales failed to qualify for the 2019 World Cup.
She told BBC Radio Wales: "I think everyone has difficulty with different coaches and I think it was a clash.
"And I think the doors have opened back up and Welsh Netball have been great and welcomed me back with open arms.
"I'm going to grab the opportunity and put my best foot forward."
Lewis helped Bath beat Celtic Dragons 54-35 in the Super League on Monday.
Wales and Celtic Dragons interim assistant coach Natalie Peperell said: "Chelsea, in my eyes, has always been a fantastic shooter.
"She proved that again so it's going to be a real contest for the Welsh players as to who will make that final cut."