England Netball: Commonwealth champions second in world for first time since rankings began
Last updated on .From the section Netball70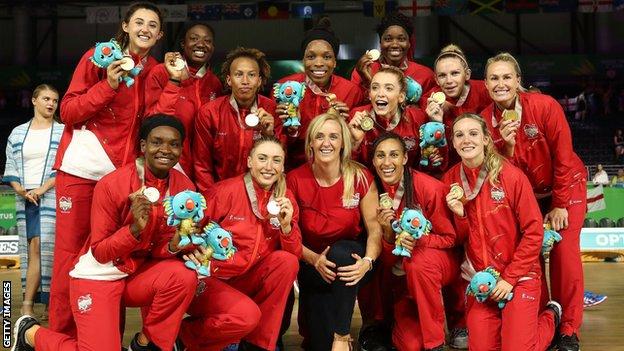 Commonwealth champions England have moved up to second place in the world netball rankings for the first time.
It is the first time since the rankings began in 2008 that Australia and New Zealand have not been the top two.
"This is a monumental moment," said England Netball chief Joanna Adams.
"There is now a new world order. For years, Australia and New Zealand have dominated both the top of the rankings and the major finals."
England stunned Australia in April to secure their first major title and head coach Tracey Neville says it is testament to the hard work over the past few years.
"It's such a historic moment for us, the fact we're up there now is brilliant. We're becoming far more consistent against those top teams," she said.
"It really shows all the fantastic work that the players and staff have been putting in over the last few years. I am so proud."
England chief Adams also believes their decision to introduce a full-time programme in 2016 has played a role in the side's rise up the rankings.
"It demonstrates how critical investment into our sport is, and the move to introduce a full-time programme is paying dividends," she said.
But Adams has previously admitted the governing body are facing a funding crisis and will struggle to support the national team past 2019 - when England host the World Cup.
The update in the rankings means Australia, New Zealand, Jamaica, South Africa and Malawi will now join England as automatic qualifiers for next year's World Cup in Liverpool.
Elsewhere, Northern Ireland remain eighth, with Scotland ninth, while Wales drop one place to 11th and, following a clean sweep at the Netball Europe Open Challenge, Ireland move up two places to 19th.