Superleague Grand Final: Wasps 55-51 Loughborough
By Louise Gwilliam
BBC Sport at Copper Box Arena
Last updated on .From the section Netball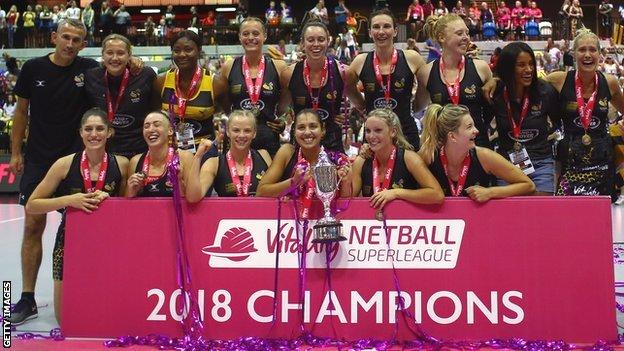 Vitality Netball Superleague Grand Final
Wasps 55
Loughborough Lightning 51
Wasps beat Loughborough for the second consecutive year to take the Netball Superleague title with a 55-51 victory.
Loughborough's defence dominated the first quarter but they were rocked by a knee injury to England's Beth Cobden.
Wasps took a four-goal half-time lead and despite the scores being level with 10 minutes to play, Wasps maintained their composure to take a narrow win.
Head coach Tamsin Greenway has won four consecutive titles as a player-coach, with both Surrey Storm and Wasps.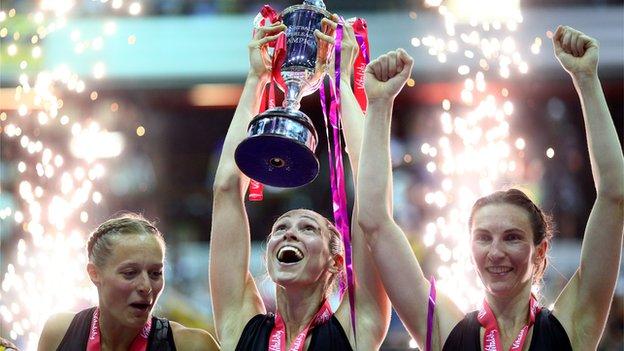 Loughborough assault hit by injury
Loughborough were seeking revenge for last year's 55-51 defeat in Birmingham, but it was a similar story and an identical scoreline this time at Copper Box Arena in London.
It was Lightning who controlled the opening exchanges, with both England's Commonwealth gold medallist Cobden and Jamaica's Shamera Sterling showing why they were nominated for the player of the season.
Goalkeeper Sterling, who received the honour before the match, played Wasps shooter Rachel Dunn out of the game, but the reigning champions clawed their way back through Cobden's England team-mate Nat Haythornthwaite.
The first quarter ended all square at 12-12, but was marred by a nasty-looking knee injury to defender Cobden. The 25-year-old had to be carried off the court and looked inconsolable on the sideline with 12 months to go until a home World Cup in Liverpool.
Wasps take their chance
With Cobden unable to return, her side looked unnerved and were short of ideas in attack. With Ugandan shooter Peace Proscovia double-marked by Hannah Knights and Sam May in the circle, Anna Carter's Lightning side failed to find a plan B.
Wasps centre Jade Clarke, who began the game as WD, showed her international experience and took control of the mid-court, but Loughborough refused to go away as a tense finale brewed.
Wasps player-coach Greenway took herself off for the final 15 minutes, and moved Sam May back to goalkeeper, decisions which seemed to lift Lightning for one final push.
Loughborough levelled the score at 45-45 with 10 minutes to play thanks to the excellent hands of Proscovia, but Carter's side lost their composure, allowing Wasps, who were a new franchise in 2017, to continue their dominance of the league.
Wasps player-coach Tamsin Greenway told BBC Sport:
"I'm just ecstatic. We are so much more chilled than we were last year.
"I've enjoyed the whole thing. I will probably remember this one the most.
"It wasn't my greatest game today and I believed in what they could do. I've had total trust in my side.
"When you are defending champions, you are always the team to beat. We'll be going for a third title, we need the youngsters to come through. I'm done."
Loughborough Lightning head coach Anna Carter told BBC Sport:
"A couple of girls probably didn't perform at the level that we're used to.
"Beth Cobden sustained an injury early on and Beth is a leader for us. She calms down the defence at the back and after that, even though Lauren [Nicholls] came on and did a fantastic job, I felt we weren't settled and lost the security we usually have.
"But, I'm not going to blame the result completely on that, we turned ball over and we just didn't convert it when it mattered. We gave the ball away at key times and you can't do that against teams like Wasps, they punish you.
"Wasps are a quality side, they've got lots of experience and girls who've won the Grand Final with Wasps and other teams. We've got one player who's won the Grand Final previously [Beth Cobden with Manchester Thunder in 2014].
"Natalie Panagarry our captain said in the huddle at the end 'It's two years now that we've got to this point and we know we can do it again. Next year we'll be even better prepared'."