England defender Beth Cobden a doubt for next year's Netball World Cup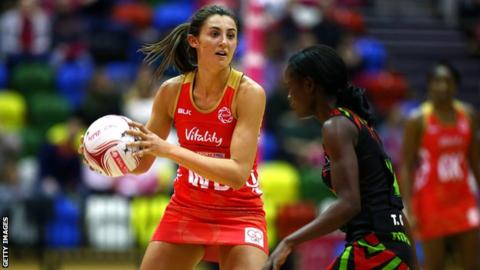 England's Commonwealth gold medallist Beth Cobden is a doubt for next year's Netball World Cup after picking up a serious knee injury on Saturday.
The defender was carried off after just 14 minutes of the Superleague final as her Loughborough side lost to Wasps.
England confirmed on Tuesday the 25-year-old had ruptured her anterior cruciate ligament, and will miss the 2018-19 international season.
England host the World Cup in July 2019 in Liverpool.
Cobden, who has been part of England's full-time programme since 2016, played a pivotal role as England secured their first major title on the Gold Coast in April.
She was also nominated for the Superleague player of the season after guiding Lightning to a second consecutive final.
But England Netball were unable to put an exact time-frame on her return, with recovery times for professional athletes usually between nine and 12 months.
What could Cobden miss?
The 2018-19 international season is a hectic one for the world number two side as they gear up for a home World Cup.
England will play two editions of the Quad Series, defend their Fast5 title in Melbourne and play a home series against Uganda in November 2018 before the showcase tournament in Liverpool in July.
And England Netball's performance director Sara Symington said Cobden would get "the best treatment and rehab" to ensure she made a full recovery.
"Beth has had an incredible season in 2017-18 - both contributing to England Commonwealth Games gold and being instrumental in Lightning's journey to the VNSL Grand Final."
"All of the Roses will rally around Beth to support her through her recovery and we look forward to having her back in an England dress as soon as possible."