Natalie Haythornthwaite: England attacker leaves Wasps Netball to join NSW Swifts
Last updated on .From the section Netball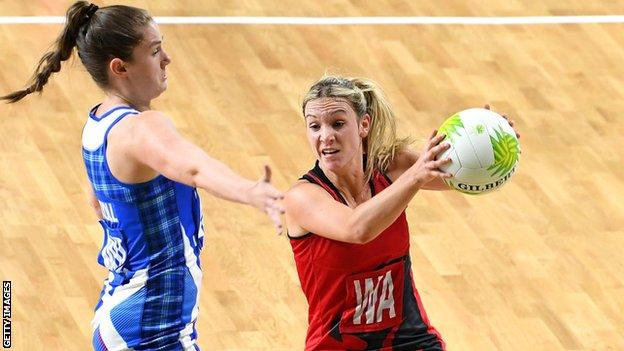 England Roses attacker Natalie Haythornthwaite has joined Australian side New South Wales Swifts after leaving Netball Superleague title holders Wasps Netball.
The 25-year-old wing/goal attacker has won back-to-back Superleague titles in two years with Wasps.
She was also a member of the England side that won gold at the Commonwealth Games in the Gold Coast in March.
"Wasps have been incredible to be part of for the past two years," she said.
Haythornthwaite initially joined the Swifts in July on a deal for the remainder of the 2018 season, replacing the injured Claire O'Brien in the squad.
She continued: "I feel extremely lucky to have played for such an amazing club and made so many great friendships during my time at Wasps.
"Wasps have been a huge part of my life over the last two years and I've really enjoyed my netball whilst being there.
"I'm really excited for my next chapter of netball overseas with the New South Wales Swifts. It's an exciting challenge which I know everyone at Wasps will be supporting me with."