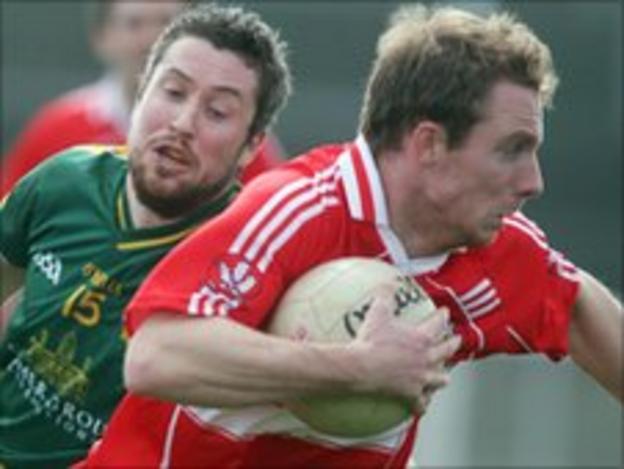 Derry kept their promotion hopes alive after an Allianz NFL Division Two comeback win at Celtic Park.
Meath took control midway through the first half thanks to two quick goals from Joe Sheridan.
The visitors led 2-5 to 0-9 at the break but Derry fought back to level before Sean Leo McGoldrick netted for the Oak Leafers.
Cian Ward scored Meath's third goal before Martin Donaghy and Paddy Bradley points secured the victory.
Meath made a strong start and were two points ahead before Derry fired over three without reply.
Sherdian netted on 17 minutes and again three minutes later to help Meath into a deserved two-point advantage at half-time.
Gerard O'Kane and Paddy Bradley were on target as Derry moved level but it was McGoldrick's strike on 54 minutes which proved decisive.
Meath's hopes of a late comeback were thwarted by the late points from Donaghy and Bradley.
Derry: M Conlon, C Mullan, K McCloy, D McBride, G O'Kane, J O'Kane, C Kielt, PJ McCloskey, M Friel, M Lynch, SL McGoldrick, M Donaghy, E Muldoon, P Bradley, C Gilligan. Subs: D Devlin, M Bateson, O Duffy, B Doyle, B McGoldrick, N Holly, C O'Boyle, J Kielt, C McGoldrick, L Moore, R Shivers.