Ups and downs from Allianz League
Last updated on .From the section Northern Ireland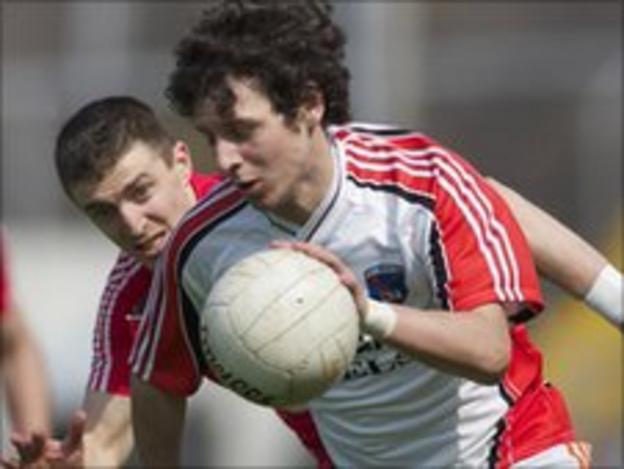 Armagh avoided the drop from Division 1 of the Football League despite their defeat in Cork while Monaghan go down despite beating Mayo on Sunday.
Donegal are promoted from Division 2 despite losing against Laois with the sides meeting again in the decider.
Antrim are relegated after their defeat by Derry while Tyrone stay in Division 2 after their draw against Meath, who avoided the drop.
Cavan stay in Division 3 after beating Tipperary while Fermanagh beat London.
Allianz Football League results
Division 1
Cork 2-15 1-12 Armagh - (Cork in Division 1 final)
Monaghan 1-18 2-13 Mayo - (Monaghan relegated)
Galway 0-15 2-09 Dublin - (Galway relegated, Dublin in final)
Kerry 1-13 1-11 Down
Division 2
Laois 1-15 1-11 Donegal - (Laois and Donegal promoted)
Kildare 0-16 1-12 Sligo - (Sligo relegated)
Antrim 0-13 1-18 Derry - (Antrim relegated)
Meath 0-17 1-14 Tyrone
Division 3
Waterford 0-11 1-11 Louth (Louth promoted, Waterford relegated)
Limerick 2-12 0-14 Wexford (Limerick relegated))
Westmeath 0-19 2-11 Offaly (Westmeath promoted)
Cavan 0-16 0-13 Tipperary
Division 4
Roscommon 1-14 0-15 Leitrim - (Roscommon promoted)
Wicklow 1-17 0-20 Clare
Fermanagh 0-14 0-08 London
Longford 1-21 1-12 Carlow - (Longford promoted)