GAA will continue efforts to alleviate player disputes
Last updated on .From the section Northern Ireland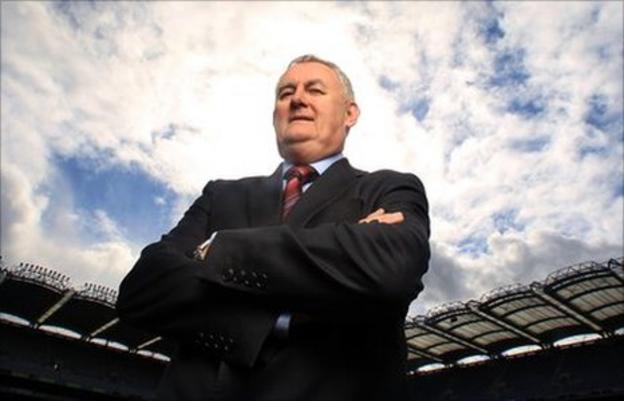 GAA President Christy Cooney says the association will continue in its efforts to adjudicate in disputes between players and country boards.
Cooney will touch on the issue in his address to the Annual Congress in Mullingar this Saturday, in the wake of the Fermanagh football dispute.
"It's there as a process to try and bring reconciliation and get parties to agree," said the GAA president.
"I will have some comments to make on it next Saturday."
When asked was he disappointed with the way events had unfolded in the Erne County, Cooney said he was happy with the response of the Fermanagh board.
"No (I wasn't disappointed). The county board have their responsibility and their right to manage their affairs and we respect that right fully and rightly so."
And Cooney says that it doesn't make the protocol null and void as a result of the Erne County's actions.
"No (it doesn't). There are a lot of things that wouldn't even come to the attention of the media with how we deal with things.
"We do that type of stuff through ourselves and the GPA on an ongoing basis.
"It's just that the Fermanagh one probably got more publicity than any other.
"Those are the challenges that face us. It's the first time that we have had this test.
"Fermanagh (county board) had the perfect right to do what they believed was right."
Cooney was speaking at Monday's announcement of telecommunications firm Eircom's sponsorship of the GAA All-Ireland Senior Football Championship for the next three years.
On the issue of ticket prices for the upcoming Allianz League Finals, Cooney says that the GAA are examining admission charges at present.
"It is likely to be two double-headers on the Saturday (Division 3 and 4) and on the Sunday (Division 1 and 2)," he said.
"That would probably attract people to come on Saturday and stay around for Sunday and vice-versa."