Ryan Farquhar agonises over possible racing retirement
Last updated on .From the section Northern Ireland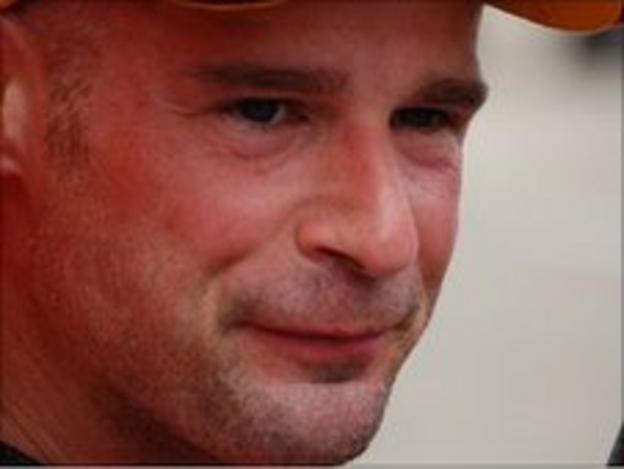 Ryan Farquhar says he is undecided about his future beyond 2011 as he prepares for another road racing year.
"I love racing and can't get away from it - it's like a hangover, sometimes you say 'never again, that's me finished', but next time you're ready.
"This year could possibly be my last but if I have a good year it'll be hard to turn my back on it," said Farquhar.
"I told my wife this would be my last season but if I get another few wins I know that's not going to happen."
The 34-year-old opened his account for the season with seven wins at last weekend's meeting in Scarborough.
"I've got stuck in over the winter and the bikes are in the best possible shape," added the Dungannon rider at the launch of the Isle of Man TT on Tuesday.
"I have Sandor Bitter riding a Superstock bike for me at the North West 200, TT and Ulster Grand Prix, and possibly at Tandragee, and also Adrian Archibald on a Supertwins machine.
"I'll give the Easter short circuit meetings a miss and keep working on the bikes.
"I have a couple of new sponsors on board and I can't wait to get on the new Kawasaki Superstock - it's going to be pretty trick."
Farquhar took his tally of TT podiums to 10 with second places in last year's Superstock and Senior classes.
"The TT is very special to me and I want to do my best this year and hopefully get a few podiums - that's again my main target."
Meanwhile Michael Dunlop is hopeful that he can add to his solitary TT win after coming very close last year.
"I'm pleased to have one TT win under my belt but it's time to start winning again," said Dunlop.
"I was disappointed last year as I came so close but I was beaten fair and square and this year I aim to come back stronger than ever.
"A lot of teams were interested in me in the close season but I wanted to keep my own sponsors on board.
"I also have Paul Bird helping me out this year and he is willing to send a team over to help me with the Kawasaki Superbike - it seems to be the bike to be on this year."