Ryan Farquhar wins five races at the Cookstown 100
Last updated on .From the section Northern Ireland
Ryan Farquhar secured five wins from five starts at the Cookstown 100.
Farquhar won the Open race from Cameron Donald, Guy Martin and Michael Dunlop and the same four riders finished in the same order in the Supersport 600.
The Dungannon rider pipped Michael Dunlop and Martin to win the feature race, with half a second separating the top three at the finish.
Farquhar also won the Moto 450 class and the Supertwins while William Dunlop won the 250s and Nigel Moore the 125s.
The feature Cookstown 100 race was a classic, with Farquhar leading for the first three laps and then Michael Dunlop leading for the next four.
Farquhar won the race to the flag on the final circuit to beat the 22-year-old by 0.1 seconds.
Martin had the consolation of setting a new course record of 90.932mph on his penultimate lap.
Earlier, Farquhar led all the way in the Open race and enjoyed a one-second advantage over Donald at the flag.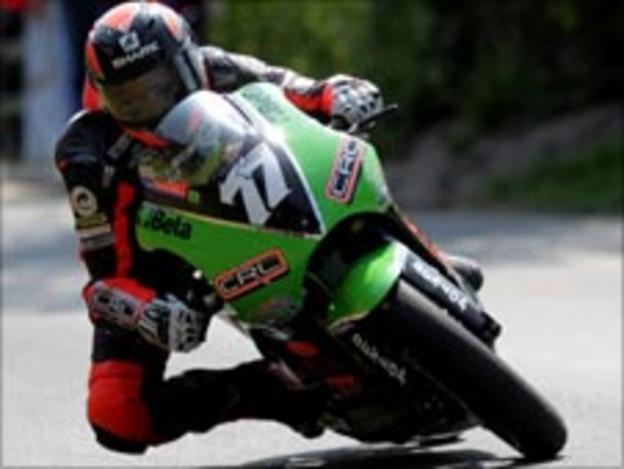 Michael Dunlop, Derek Shiels and William Dunlop completed the top six leaderboard.
Less than a second separated the top four riders in a keenly fought Supersport joust.
Fourth-place finisher Dunlop set a new lap record for that class at 89.16mph.
Farquhar's victory in the Moto 450 class, in which Seamus Elliott was second, saw him pass the late Joey Dunlop's record for the number of wins at Irish national and international road race meetings.
The Kawasaki rider's tally now stands at 160, four ahead of Dunlop's previous best of 156.
To round off his day, Farquhar won the Supertwins from Andy Farrell, John Burrows, Adrian Archibald, William Davidson and Wayne Hamilton.
William Dunlop won the 250cc class from Elliott, Davy Morgan, Darren Burns, Wayne Kennedy and Daley Mathison.
Nigel Moore took the 125cc honours after Dunlop suffered mechanical problems on his final lap while leading by four seconds.
In the end, the elder of the Dunlop brothers had to settle for third position.