Forward duo doubtful for Antrim
Last updated on .From the section Northern Ireland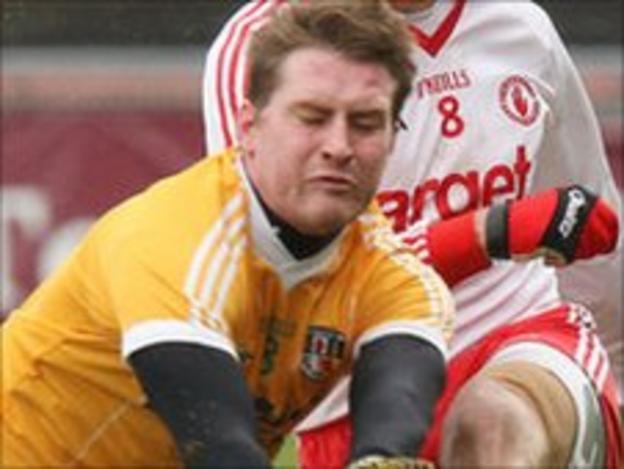 Kevin McGourty and Michael McCann remain injury doubts for Antrim's Ulster Football Championship opener against Donegal on Sunday.
McGourty plans to train for the first time in 10 days on Tuesday night after sustaining an ankle injury in a challenge game against Mayo.
McCann has been training in recent weeks but appears unlikely to be 100% fit going into the Ballybofey game.
A back injury has threatened McCann's career in recent months.
Back in February, McCann told the BBC that the back injury was causing him to lose feeling in his right foot.
While he has returned to training in recent weeks, McCann is understood to be some way off full fitness.
Antrim manager Liam Bradley has hinted that Andy McClean is unlikely to start against Donegal after missing a number of recent training sessions because of injury.
McClean's absence could mean a start at full-back for Ricky Johnston, who may be delegrated the onerous task of marking Donegal dangerman Michael Murphy.
CJ McGourty is likely to miss all of this year's Championship after undergoing hip surgery recently but a number of other Saffron injuries have cleared up.
Justin Crozier and Kevin Niblock missed the concluding league defeat by Donegal at Ballyshannon but both will be fit for Sunday's clash.
Tony Scullion, Colin Brady, Kevin O'Boyle and Brendan Herron are also said to be available for selection after recovering from injury.
Antrim manager Liam Bradley has added spice to the encounter by hitting out at Donegal's style of play in a recent interview.
Bradley was reported as accusing the Division 2 champions of being "ultra defensive and playing real puke football in a sense".
Donegal manager Jim McGuinness has refused to respond to Bradley's remarks.