Alastair Seeley impresses in North West 200 practice
By Richard Petrie
BBC Sport NI at the NW200
Last updated on .From the section Northern Ireland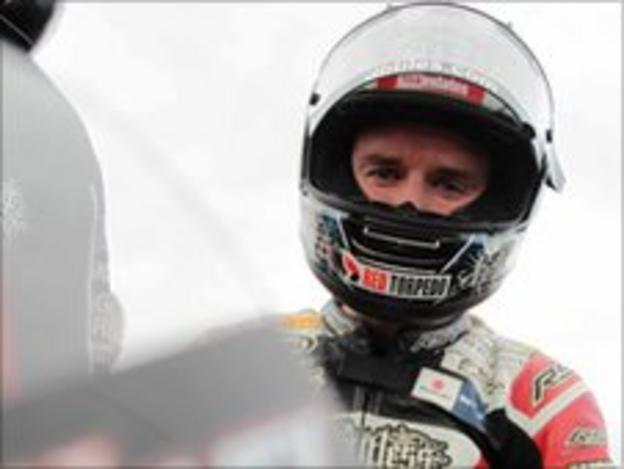 Carrickfergus rider Alastair Seeley put down a marker as the man to beat at the North West 200 with two firsts and a second in Tuesday's opening practice.
The TAS Suzuki rider topped the Superbike timings on 119.10 mph with 12-times North West winner Michael Rutter second and Martin Jessopp third.
Honda man Cameron Donald was fastest in the Supersport class ahead of Seeley and the Yamaha of Michael Dunlop.
Seeley then topped the Superstock leaderboard with Dunlop just behind.
There was some rain during the session but the downour which had threatened did not materialise.
VIDEO: Onboard with Alastair Seeley
The in-form Seeley, who has won four times at the North West, had been considered one of the favourites this year.
He justified that as he set the fastest time in the opening Superbike session.
Ducati riders Rutter and Jessopp took second and third, Rutter at 118.68 and Jessopp with 116.95.
Ryan Farquhar and Michael Dunlop experienced significant problems with their Kawasakis.
Dunlop was forced to park up his Superbike because of a mechanical problem while Farquhar only managed two laps after complaining of clutch problems.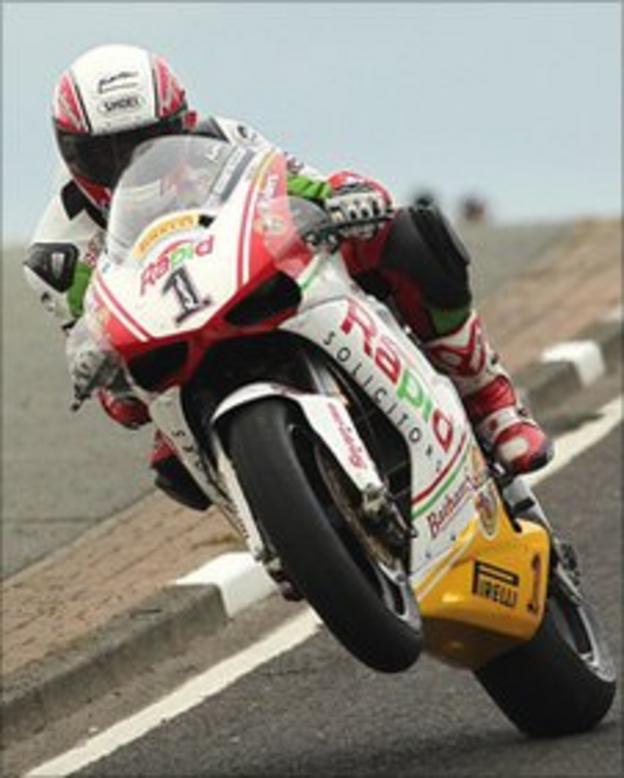 Scot Stuart Easton, one of the pre-race favourites, was back in ninth in the timings, as he suffered handling problems with his bike.
Bruce Anstey and Conor Cummins also failed to make a significant impact on the leaderboard.
The riders had to contend with damp roads on some parts of the circuit during the 600cc session.
Australian Donald set the fastest time in the Supersport practice session at 114.29mph on his Wilson Craig Honda.
Seeley was close behind at 114.25, followed by Michael Dunlop in third on 112.64.
Veteran Welshman Ian Lougher was seventh and his fellow Kawasaki rider Ryan Farquhar eighth.
William Dunlop only managed two laps and finished well down the leaderboard.
Seeley continued his good form by topping the Superstock leaderboard at a speed of 118.42, just over two seconds outside Rutter's lap record for the class.
Michael Dunlop was close behind with Rutter third.
William Dunlop improved on his earlier form by taking fourth, Lougher was fifth and Adrian Archibald sixth.
They were followed by Cameron Donald, Ryan Farquhar and Guy Martin.
Easton's woes continued as he languished back in 14th place.
North West 200 first practice timings
Superbike: 1 Alastair Seeley (Suzuki) 119.10, 2 Michael Rutter (Ducati) 118.68, 3 Martin Jessopp (Ducati) 116.95, 4 Gary Johnson (Honda) 116.44, 5 Stephen Thompson (Suzuki) 115.29, 6 Guy Martin (Suzuki) 115.21
Supersport: 1 Cameron Donald (Honda) 114.29, 2 Alastair Seeley (Suzuki) 114.25, 3 Michael Dunlop (Yamaha) 112.64, 4 Gary Johnson (Honda) 112.09, 5 Bruce Anstey (Honda) 111.22, 6 Guy Martin (Suzuki) 110.28
Superstock: 1 Alastair Seeley (Suzuki) 118.42, 2 Michael Dunlop (Kawasaki) 118.40, 3 Michael Rutter (Ducati) 116.74, 4 William Dunlop (Honda) 116.33, 5 Ian Lougher (Kawasaki) 116.29, 6 Adrian Archibald (BMW) 116.14