Michael Rutter tops Superbike times in NW qualifying
Last updated on .From the section Northern Ireland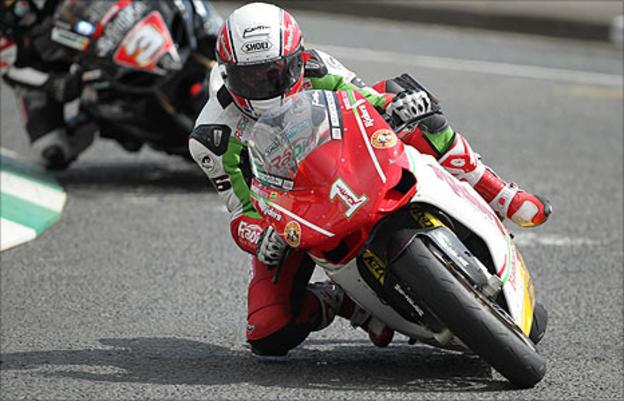 Michael Rutter claimed pole position for Saturday's Superbike race at the North West 200 thanks to a superb performance in practice on Thursday.
Rutter, a 12-times winner at the North West, pipped Ducati team-mate Martin Jessopp with Michael Dunlop third.
Alastair Seeley, best on Tuesday, was down in seventh after fuel pressure trouble, but he had earlier topped the Superstock and Supersport times.
Stuart Easton sustained a fractured pelvis and broken fingers in a crash.
The 27-year-old Scotsman was involved in a collision with MSS Colchester Kawasaki team-mate Gary Mason neat Station Corner soon after the start of Thursday's practice.
Easton was taken to the Causeway Hospital in Coleraine for treatment, before being transferred to the Royal Victoria in Belfast.
"It was a high-speed crash but fortunately not serious and the injuries are not life-threatening," said NW200 Technical Director Mervyn Whyte.
Carrickfergus racer Seeley had looked capable of topping all three practice runs after being fastest in the Superstock and the Supersport 600s.
He came in ahead of Michael Dunlop and Rutter in the Superstock and then saw off runner-up Gary Johnson and third-placed Michael Dunlop in the Supersport.
But mechanical problems meant his Tuesday times counted for the Superbikes and he just missed out on a place in the top six.
Superstock standings: 1 A Seeley 119.706, 2 M Dunlop 119.328, 3 M Rutter 118.039, 4 Gary Johnson 117.993, 5 William Dunlop 117.247, 6 Ryan Farquhar 117.241
Sportsport standings: 1 A Seeley 115.937, 2 G Johnson 115, 3 M Dunlop 115.149, 4 B Anstey 114.649, 5 W Dunlop 114.417, 6 G Martin 113.812
Superbike standings: 1 M Rutter 121.24, 2 Martin Jessopp 120.98, 3 M Dunlop 120.79, 4 Guy Martin 120.00, 5 C Donald 119.94, 6 Gary Johnson 119.41