North West 200 racing abandoned
Last updated on .From the section Northern Ireland
The North West 200 was abandoned on Saturday with just one race being completed.
Heavy rain, a security alert and an oil spill caused delays which led to the decision to abandon the event at 1720 BST.
Carrickfergus rider Alastair Seeley was the only winner as he edged out Cameron Donald in the Supersport 600 race.
Seeley was leading Michael Dunlop in the Superbike race when it was stopped after one lap because of an oil spill.
The oil came from Ryan Farquhar's machine and it resulted in the meeting ending prematurely despite efforts to clear it from a stretch of the circuit after Metropole.
"We worked and worked at it but it was a major spill," said race director Mervyn Whyte.
"The guys did a brilliant job and we thought we had cleared it, but the riders had concerns after two warm-up laps and we were not prepared to take the risk."
Seeley passed Australian Donald on the last lap of the Supersport race after a thrilling duel in wet conditions - Bruce Anstey was well back in third.
The races were reduced from six to five laps because of the poor weather, with the riders having two 'sighting' laps before each race.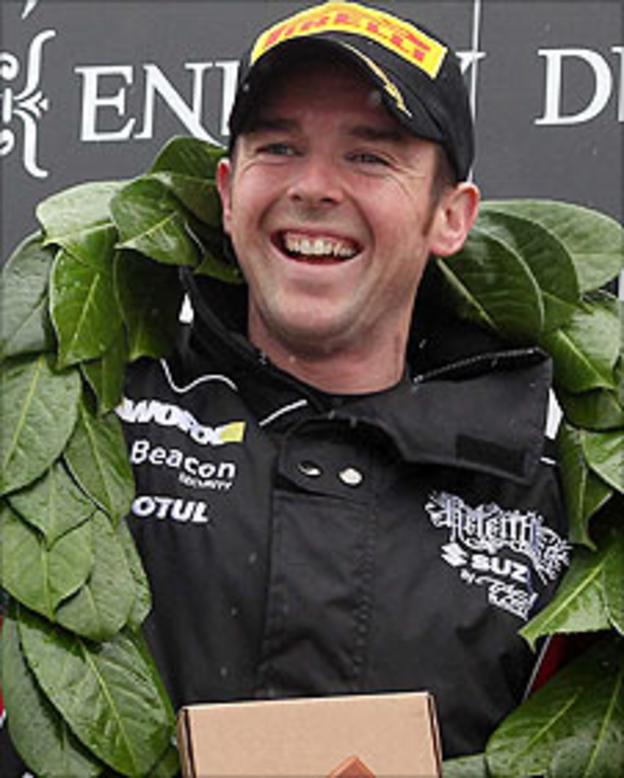 The first Superbike race was scheduled to open the programme but organisers decided to go with with the less powerful Supersport machines due to the conditions.
Seeley, Gary Johnson and Ryan Farquhar all held the lead on the opening lap.
Donald, seeking his first NW200 victory, made a poor start but moved quickly through the field and it became a showdown between the Wilson Graig Honda rider and Seeley in the final three laps.
The paddock area was evacuated during the security alert after the Supersport race.
Conditions deteriorated during the alert and led to pole position man Michael Rutter, team-mate Martin Jessopp and Guy Martin opting not to compete in the Superbike race, which was reduced to four laps.
Michael Dunlop took an early lead but he was soon joined by Seeley, who had moved ahead on the first lap when the oil spill led to the race being stopped.
The riders went out again on a two-lap warm-up but concerns over the oil spill brought an end to a disappointing day.
Result: Supersport 600
1. A Seeley average speed 107.97mph 2. C Donald 107.91 3. B Anstey 106.96 4. M Dunlop 106.32 5. G Johnson 106.18 6. W Dunlop 105.92