Donegal will appeal against Michael Murphy's red card
Last updated on .From the section Northern Ireland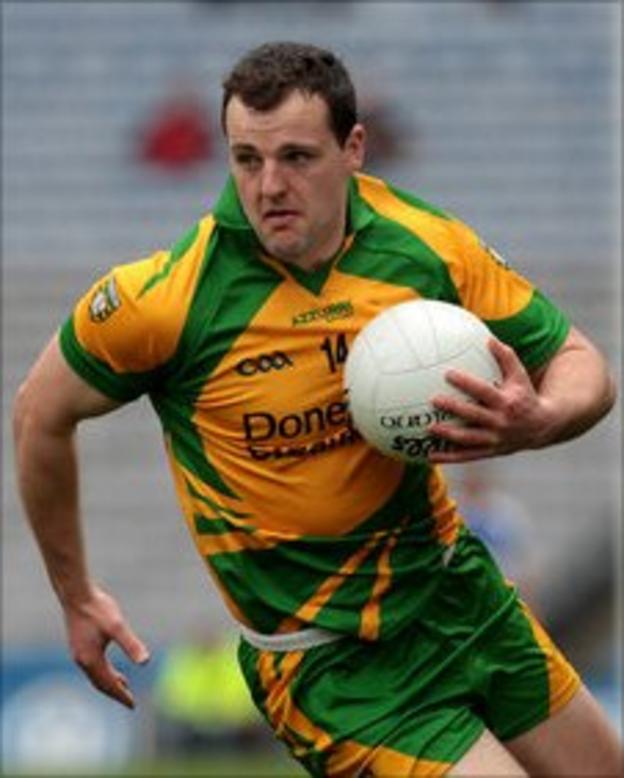 Donegal assistant boss Rory Gallagher has said that the county definitely will appeal against Michael Murphy's straight red card in Sunday's Ulster SFC win over Cavan.
As it stands, Murphy will be banned for the Ulster semi-final against Tyrone in two weeks but Donegal believe the dismissal must be rescinded.
"We don't even need to see the video," Gallagher told BBC Sport.
"He didn't strike anybody. We'll be going to the CCCC."
The general consensus appeared to be that Donegal skipper Murphy had been harshly dealt with by Sligo referee Marty Duffy.
Murphy appeared to indulge in some off-the-ball shoulder to shoulder stuff with Damien Reilly before the Cavan defender ended up on the floor.
Man of the match Karl Lacey was content with his team's victory but said that they would have to raise for game for the Ulster semi-final.
"That's going to be a huge battle. Tyrone are definitely the top team in Ulster," added Lacey, who had conclusively won his battle with Cavan's dangerman Seanie Johnston.
"Any time you meet Tyrone, they are not soft and you have to be on your game."
However, Cavan joint-manager Terry Hyland is tipping Donegal to defeat the current Ulster kingpins.
"They (Donegal) have a great chance of winning the Ulster title," added Hyland.
"I fancy them (against Tyrone). Ulster is open this year. I think maybe the stranglehold which Tyrone and Armagh have had over the last 10 or 11 years can be broken."
Hyland added the his young Cavan team had been unable to physically match Donegal.
"The conditions today didn't suit our young fellows. We had a game plan to move the ball quickly but the conditions didn't facilitate that.
"Losing the man (Ray Cullivan) also caused us to lose a bit of shape even though it then evened itself out (with Michael Murphy's dismissal).
"They were better set up on the day than us.
"They were physically very, very strong, moved the ball well and took their scores well."