Ryan Farquhar takes five wins at the Bush road races
Last updated on .From the section Northern Ireland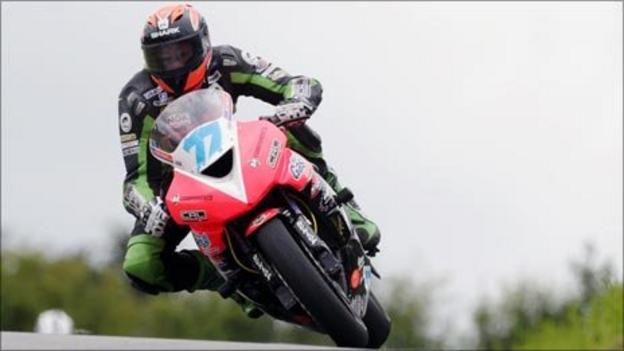 Ryan Farquhar brushed aside concerns about his fitness by securing five wins at the Bush road races on Saturday.
Farquhar won the Moto 450 class and then enjoyed success in the Supertwins.
His third victory came in the Supersport 600 race in which he beat runner-up Michael Dunlop.
The Dungannon man beat Dunlop by six seconds in the Open race and then by half a second in the Grand Final in which he set a new course lap record. William Dunlop won the 125cc event.
Nigel Moore and Darren Burns completed the podium in the 125s.
Wayne Hamilton won the 250cc race from Burns and Daley Mathieson.
John Burrows finished 2.5 seconds behind Farquhar in the Supertwins, with William Davidson third.
Farquhar set a class lap record of 89.10mph in the 600cc race and came home 6.5 seconds ahead of Dunlop, with Burrows third.
The Kawasaki rider won the Open race on board his 600 bike and he proved too strong for Dunlop and third-placed finisher Derek Shiels.
Dunlop pushed Farquhar hard in the Grand Final but a new outright lap record of 90.763mph helped him complete a five-timer.
125cc: 1 W Dunlop; 2 N Moore; 3 D Burns
Moto 450: 1 R Farquhar; 2 S Elliott; 3 C Shirlaw
250cc: 1 W Hamilton; 2 D Burns; 3 D Mathieson
Supertwins: 1 R Farquhar; 2 J Burrows; 3 W Davidson
Supersport 600: 1 R Farquhar; 2 M Dunlop; 3 J Burrows
Open race: 1 R Farquhar; 2 M Dunlop; 3 D Shiels
Grand Final: 1 R Farquhar; 2 M Dunlop; 3 D Shiels