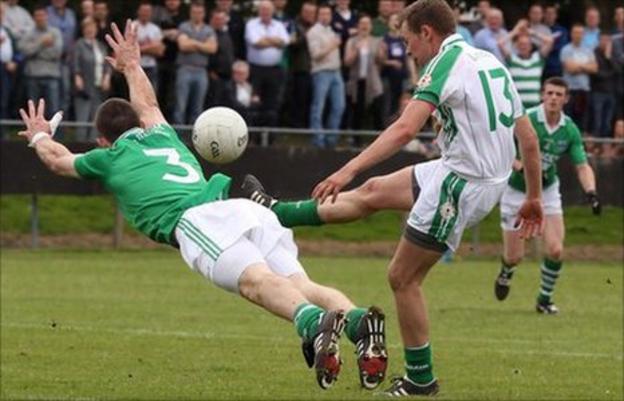 Fermanagh's disastrous season ended as they were dumped out of the All-Ireland Football qualifiers by London.
London were clinching the Exiles' first win in a Championship game since the 1977 Connacht SFC win over Leitrim.
After a season affected by players opting out of the squad, this latest defeat could hasten the departure of Fermanagh boss John O'Neill.
London led 0-9 to 0-1 at half-time after playing with a strong breeze and Fermanagh could not get on terms.
Points from Padraig McGoldrick, man of the match Paul Geraghty and Eoin O'Neill (three) helped London into a 0-6 to 0-1 lead before Tomas Corrigan opened Fermanagh's account.
London should have been even further ahead by that stage and they had fired several bad wides.
However, points from Kevin O'Leary, impressive Tony Gaughran and O'Neill left Fermanagh eight clear at the interval.
Fermanagh hit five of the third-quarter's seven scores to cut London's lead to 0-11 to 0-6 with John O'Flanaghan (three) and Brian Og Maguire on target for the Ernemen.
Barry Owens' move to midfield improved the Fermanagh engine room but the visitors were unable to get closer than four down in the closing 15 minutes.
Crucial scores from Ciaran McCallion and Killian Phair halted any momentum that Fermanagh had to extend London's lead to 0-14 to 0-8.
London's players heartily celebrated their success after the final whistle while Fermanagh players had to face the realisation of one of the worst day's in the county's GAA history.
Fermanagh boss O'Neill acknowledged that London had deserved their victory.
"It was a bad day at the office for us. London were the better team all over the pitch and we hadn't enough guys to step up to the mark," he added.
"London took their chances and we were probably naive.
"London's hunger was phenomenal. We didn't match it. Good luck to them; they'll give whoever they meet in the next round plenty of trouble."