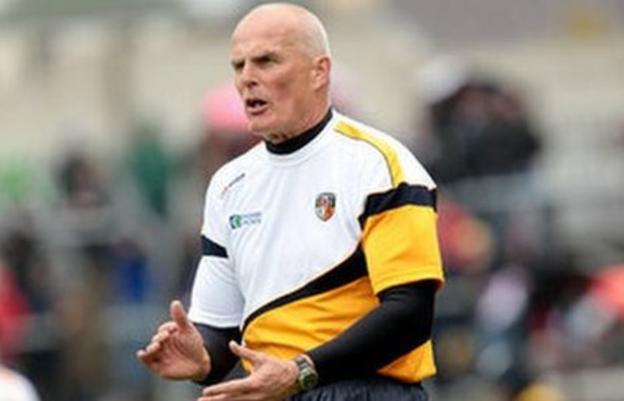 Antrim fought back from a shaky start to ease past Westmeath in Saturday's All-Ireland Football qualifier at Casement Park.
James Dolan's goal helped Westmeath lead 1-1 to 0-0 but Antrim responded with eight unanswered points, including three Gerard O'Boyle scores.
O'Boyle started instead of Paddy Cunningham who was introduced late on.
Antrim led 0-8 to 1-3 at half-time but James Loughrey's superb display helped the Saffrons stay in control.
Michael McCann sustained a hamstring injury late in the first half and said afterwards that he is unlikely to be fit for Antrim's next qualifier in two weeks.
While Cunningham didn't start for Antrim, Westmeath were also without their most renowned forward with Dessie Dolan dropping the bench because of injury.
Westmeath got off to a great start with John Heslin's opening point followed by James Dolan's goal after the forward ran all the way from half-back to slot past Sean O'Neill.
However, instead of building on their impressive start Westmeath badly lost their way with Antrim hitting eight unanswered scores.
In addition to O'Boyle three points, Tomas McCann, Conor Murray, Brendan Herron, Loughrey and Kevin Niblock were on target during Antrim's period of domination.
Westmeath regrouped somewhat to finish the half on a better note as Heslin and Brendan Murtagh notched scores to cut Antrim's lead to two.
The outcome remained in doubt in the third quarter as Antrim led only 0-10 to 1-6 but the Saffrons hit six of the closing seven points, including two fine efforts from Tony Scullion.
Dessie Dolan was introduced midway through the second half but clearly wasn't fully fit and made little impact.
The Saffrons should have won by a bigger margin as Aodhan Gallagher missed a glorious goal chance as his fluffed effort allowed ex-Allstar keeper Gary Connaughton to save.