US police investigate after GAA player is left in coma
Last updated on .From the section Northern Ireland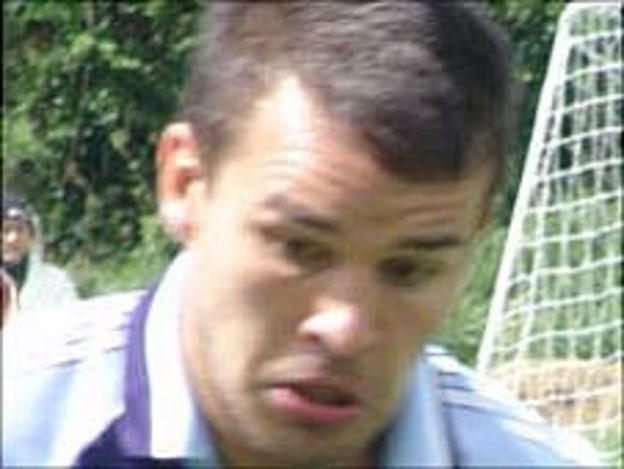 San Francisco police are investigating an incident which left a Fermanagh GAA player in a coma after an off-the-ball incident during a game.
Mark McGovern, 22, was making his first appearance for Ulster San Francisco in a match against the Celts in the California city.
The Belcoo O'Rahilly's clubman is "critical but stable" in hospital.
Ulster San Francisco manager Joe Duffy said the club has identified the Celts player involved in the incident.
"As the ball left the goalmouth area the umpires drew to our attention that Mark was on the ground," added Duffy.
"Mark was unconscious and it was obvious it was a serious injury.
"We contacted the San Francisco Police Department and filed a report," added Duffy.
"That investigation is ongoing and I believe the police are going to interview players from both teams along with the umpires and match officials.
"His family is devastated and I can say Mark is a great young man, well liked by everyone at the club."
Deirdre Donnelly from the Fermanagh County Board said that McGovern's condition has "improved slightly".
McGovern arrived in the USA last week for a three-month stint with Ulster San Francisco.
He was accompanied by two other members of Belcoo O'Rahilly's, Emmet Scallon and Ciaran Flaherty.
The opposing Celts side is made up mostly of US-born players.
He was given immediate medical assistance at the scene and put into a medically induced coma, from which he has yet to emerge.
He is currently in the intensive care wing of San Francisco General Hospital, where members of his family have flown out to be at his bedside.
McGovern played for Fermanagh in a McKenna Cup game against Tyrone earlier this year and is on the fringes of the county's senior team.
A statement from Belcoo O'Rahilly's read: "The club would like to ask all its members to keep Mark McGovern and his family in our thoughts and prayers.
"Mark suffered a severe head injury during his debut for Ulster San Francisco on Saturday night and he has been in a coma since.
"Two other Belcoo players, Emmet Scollan and Ciaran Flaherty, were playing the the same game and they have been at Mark's bedside since.
"Messages of support have been overwhelming but we would like to keep the three lads in our prayers and we hope Mark comes around shortly and he can make a full recovery.
"Mark is an exceptionally talented footballer and one of our most decorated young players."