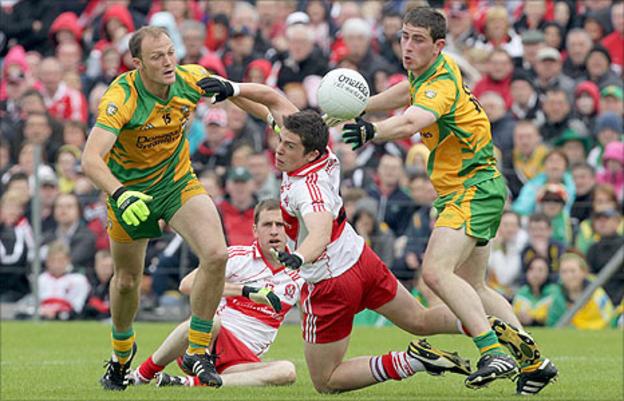 Donegal beat Derry to win the Ulster Senior Football Championship for the first time since 1992 - the year of their only All-Ireland triumph.
A Michael Murphy penalty saw them surge ahead early in the second half when the sides were level on five points each.
Derry were furious about the decision but it looked like their keeper Danny Devlin had brought down skipper Murphy.
Donegal's Colm McFadden got four points and James Kielt did likewise for Derry who now play Kildare in the qualifiers.
In the first final since 1998 not to feature either Tyrone or Armagh, Donegal deserved to come out on top.
They were 0-5 to 0-2 up thanks to scores from McFadden, Anthony Thompson (2), Murphy and Ryan Bradley.
It was not looking good for Derry who were without influential forward Eoin Bradley.
However, John Brennan's men fought back and it was 0-5 each at the break with the Derry scores coming from centre half-back Charlie Kielt (2), James Kielt, Conleth Gilligan and substitute Martin Donaghy.
The match was lacking sparkling football but the Ulster showpiece came to life with that 37th-minute penalty.
Murphy raced through to chase the ball and crashed to the ground in a collision with Devlin who received a yellow card.
Murphy drilled the penalty into the net and when McFadden and Michael Hegarty added points it was suddenly 1-7 to 0-5 and the Anglo-Celt looked destined for the hills after a 19-year absence.
James Kielt landed a free and a point to play to move to within a goal but McFadden and Murphy restored the five-point gap.
Derry really needed a goal and they thought they should have had a penalty when Emmett McGuckin was charged over by Neil McGee.
However, it was not given and the next point came from Hegarty to leave it 1-10 to 0-7.
James Kielt then pointed for Derry before McFadden's fourth point gave Donegal the last word.