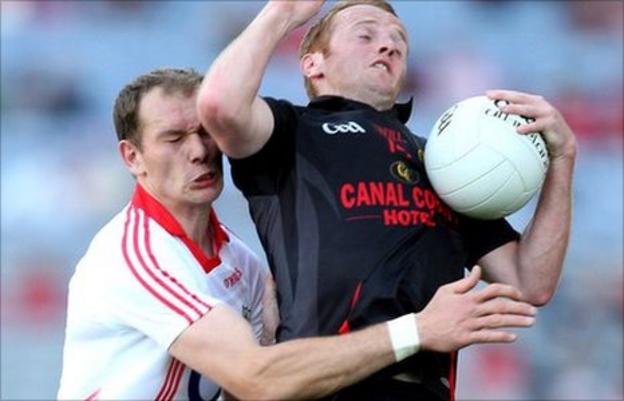 Down suffered a chastening qualifier hammering by Cork in the repeat of last year's All-Ireland Football decider.
The Mourne tale of woe was completed by Martin Clarke's dismissal in what could have been his last game before a possible return to Australian Rules.
First-half goals by Donnacha O'Connor and Fintan Goold helped Cork lead 2-8 to 0-9 at the interval.
Alan Quirke's pointblank save to deny Peter Fitzpatrick kept Cork in control and Down wilted in the second half.
O'Connor finished with a 1-7 tally for Cork although the one downside for the Rebels was an ankle injury suffered by Daniel Goulding which forced the forward off late in the first half.
Both teams made late changes to their line-ups with Danny Hughes replacing Liam Doyle for Down and Eoin Cadogan and Eoin Cotter taking over from Graham Cantry and Jamie O'Sullivan for Cork.
Down made an encouraging start as scores from Conor Garvey and Clarke moved them into a 0-2 to 0-1 lead.
However, Brendan McVeigh had to make a brilliant save to tip a Pearse O'Neill shot over the bar and Cork did hit the net on 10 minutes as O'Connor produced a delightful finish at the near post after a superb pass from Goulding.
Initially, Down responded well as they hit five of the next seven scores to cut Cork's lead to 1-5 to 0-7 by the 20th minute.
At that stage, Down appeared to have regrouped impressively but they were hit by a hammer blow in the 23rd minute as Goold produced a glorious low finish after Paddy Kelly had been allowed to run straight through the Mourne defence.
In truth, Down never really recovered from the second Cork goal.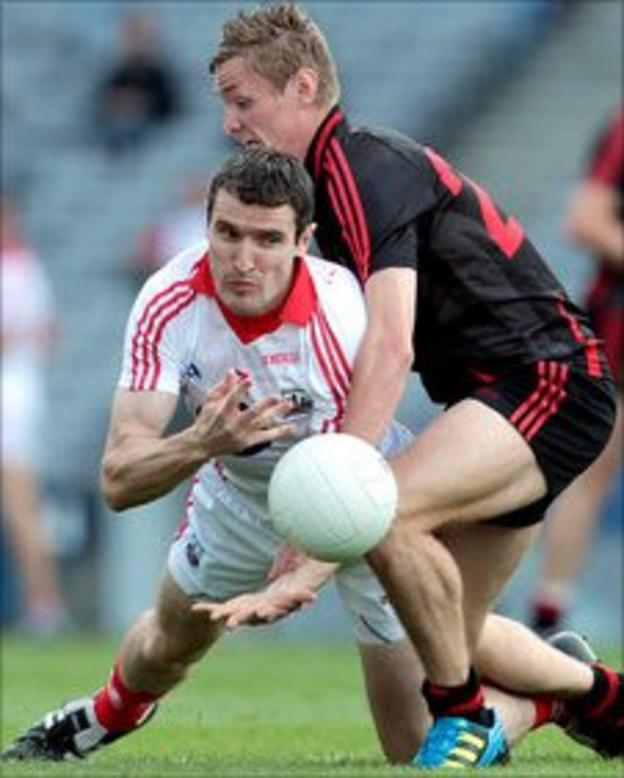 Kevin McKernan tried to respond as he charged towards the Rebels' goal but Michael Shields' professional foul-style handtrip meant only a point with the booking surely a satisfactory trade for the Cork man.
Terrific points from play from O'Connor and the strong-running Paul Kerrigan kept Cork five ahead by the interval.
Clarke's free after the restart cut Cork's lead to four and then came the other key moment of the match as Quirke made a full-length diving save to prevent Fitzpatrick's pointblank chance.
Fitzpatrick got full purchase on the shot but a lower shot - a la Cork's first-half strikes - would probably have represented the better option.
Three more O'Connor points killed off Down's challenge and further scores by Goold, Kerrigan (two) and O'Connor meant Cork had notched seven unanswered points.
By that stage, Down had totally lost their shape with Cork able to create chances and pick off scores at will.
Two points from sub Paul McComiskey stopped the rot but Martin Clarke's night then ended prematurely when he picked up a second yellow card after tangling with John Miskella.
In the first half, Clarke had been booked after an incident which left his Nemesis from last year's All-Ireland Final, Noel O'Leary, on the floor.
If it was Clarke's last contribution before a return Down Under, it was a highly unsatisfactory conclusion.
Graham Canty was almost able to walk the ball into the Down net in the closing stages before fisting the ball over the bar.
Benny Coulter appeared to have earned a late Down penalty but his protests were ignored as Cork completed a conclusive victory.