Tyrone manager Harte praises Dublin after Croke defeat
Last updated on .From the section Northern Ireland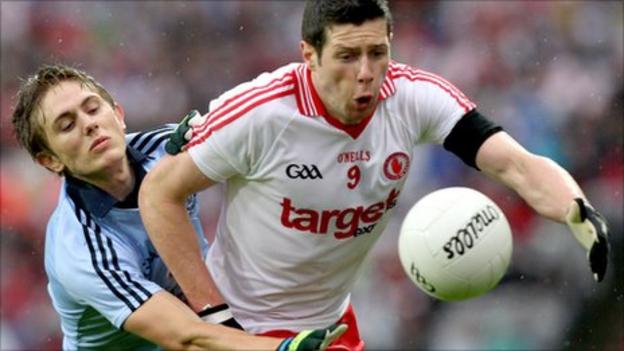 Tyrone boss Mickey Harte gave credit to Dublin after the Red Hands lost 0-22 to 0-15 in the All-Ireland quarter-final.
"Sometimes you have say that your opponents were better and deserved their victory," said Harte.
"They are a very good side, they adapted to the conditions very well and put serious pressure on us."
Harte added that it was a "creditable" display from his team and it was "premature" to speak about the possibility of some players retiring.
"When you are defeated in the championship people begin to write obituaries of the players and manager - I don't think that is fair," said Harte.
"We could have been whitewashed in the second half but the players fought on and kept an air of respectability to the score."
Dublin, who led 0-11 to 0-6 at half-time, were superb and Diarmuid Connolly top-scored with seven points from play.
"We were a long distance behind at the break but Dublin continued to play well in the second half," added the Tyrone manager.
"We needed a goal and while we had a few half chances, it didn't happen.
"At half-time we could have brought on six players but when Diarmuid Connolly is in the form he was in, when he brings out that quality, he is a real handful.
"So when you think you can deal with the two Brogans, what can you do? You do your best but sometimes it is not good enough."