North West 200 set to include Thursday racing in 2012
Last updated on .From the section Northern Ireland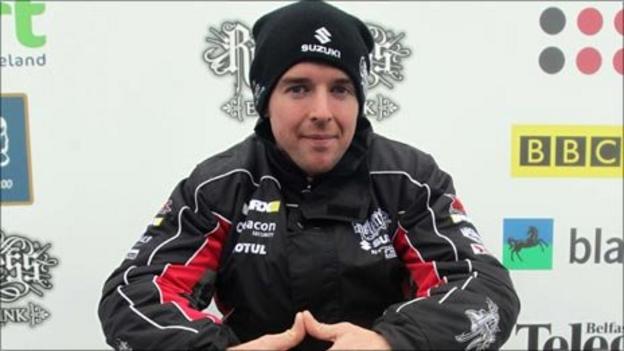 Organisers of the North West 200 are hoping to include racing on a Thursday for the first time.
The Coleraine Club has revealed plans for two or three races to be staged on Thursday night, with practicing during the day on Tuesday and Thursday.
Officials have secured the backing of the local council and there will now be a public consultation process in relation to the required road closures.
Under the proposals, there would still be five races staged on the Saturday.
The move to introduce Thursday competition follows the abandonment of last year's meeting after just one race, the Supersport 600cc race one.
Heavy rain, a security alert and an oil spill combined to thwart the organisers' efforts to run the event.
"We made a presentation to Coleraine Council on Tuesday night and the feedback was very positive," said Technical Director Mervyn White.
"They have given us the OK to go on to the next stage which is the consultation process.
"We want to talk to residents and stakeholders in the area and progress the road closing order to another level.
"After speaking to the teams, managers and riders and getting feedback from the public, we believe an additional set of races on Thursday evening would inject a new vibrancy.
"The new two-day format would ensure fans get the opportunity to watch a substantial number of races, even if we are unlucky enough to experience challenging conditions at any stage."
Whyte thanked residents and businesses close to the 8.9-mile circuit.
"We try to minimise inconvenience as much as possible and we do appreciate the support we receive from local people," he said.
"When Thursday daytime practice was first introduced in 2010 there were no major issues or complaints and we would continue to provide a high degree of co-operation in 2012."
The exact dates of next year's meeting have still to be agreed and are unlikely to be finalised until a provisional calendar for the British Superbike Championship is announced.
The revamped race schedule is likely to include at least one Supertwins outing, with the organisers likely to follow the example of the Isle of Man TT, who will include the class in their line-up for the first time next year.
The proposed road closures for Tuesday and Thursday practice are 0930 to 1430 BST, with roads closing again for racing between 1730 and 2100 on Thursday evening.
Northern Ireland's other international event, the Ulster Grand Prix, has included Thursday racing for a number of years in the form of the Dundrod 150.