Fermanagh report exposes 'culture of negativity'
Last updated on .From the section Northern Ireland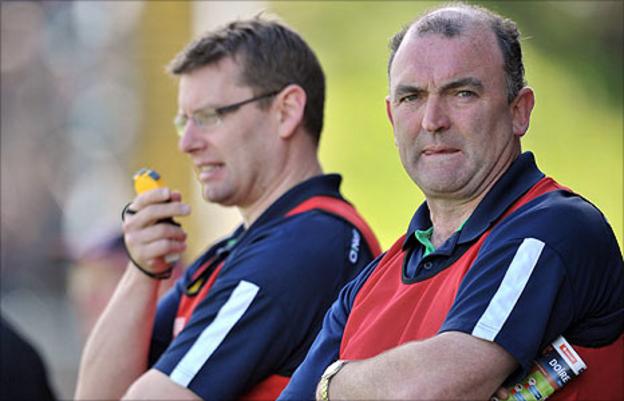 A report into Fermanagh's 2011 campaign claims a "small group" deliberately tried to "thwart the progress of the county's GAA fortunes".
The unnamed group was accused being totally against the appointment of John O'Neill as manager and creating a "culture of negativity".
The report also cricitised the county board, a number of players and O'Neill, who resigned last week.
Fermanagh's dismal season ended with an embarrasing defeat by London.
The county board set up a review committee, headed by former Armagh captain Jarlath Burns, to look into the senior football team's hugely disappointing league and championship campaigns.
During O'Neill's year in charge, a number of players made themselves unavailable for the squad.
Fermanagh were defeated heavily by Derry in the Ulster Championship before losing to minnows London in the qualifiers.
The report criticised O'Neill for not holding trials at the start of the season and added that medical provision and training facilities could have been better.
The county board lacked "corporate responsibility" in dealing with the press, the report found.
The 11 players who walked out on the panel were criticised for not voicing their concerns through official channels.
However, most of the blame was directed towards the "small but determined" group of people mentioned in the report.
They "left no room for manoeuvre within the management team, with every teething problem, defeat, defection being pounced upon as indicative of their not being fit for purpose".
The report added: "Those involved need to examine their consciences and ask themselves if their actions were serving the GAA in their country, or feeding selfish preconceptions which they themselves held."
The review committee recommends that training facilities are improved, players who left the panel this year return and that individual expenses are presented to the county executive at each meeting.