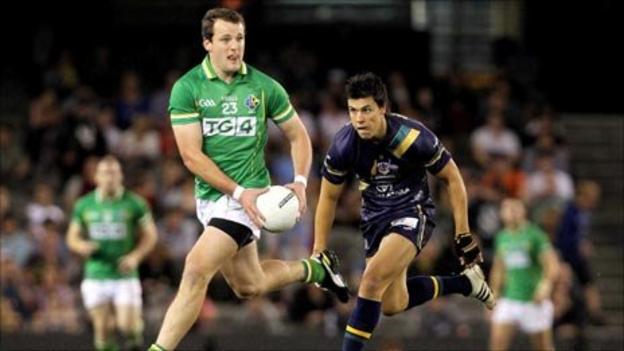 Ireland trounced Australia in the first of the two International Rules Tests between the sides in Melbourne.
The Irish were always in control and Donegal captain Michael Murphy scored a goal to help his side to a 22-4 lead after the first quarter.
Eamonn Callaghan found the net during the second period, after which Anthony Tohill's side led 44-20.
The score was 59-29 after the third period and Leighton Glynn and Stephen McDonnell scored goals in the fourth.
The first score of the game came from a Tommy Walsh over from 25 metres out.
Glynn, Murphy and Tadhg Kennelly also landed overs as Ireland totally dominated the game to lead 13-1.
Murphy then lashed the ball into the bottom left-hand corner of the net for the first goal of the game three minutes before the end of the first segment of play.
Stephen McDonnell's over completed the scoring for the first quarter.
Down's Kevin McKernan began the second quarter in style with a behind and an over.
Nine minutes into the period, Callaghan took a few steps and then lobbed the ball into the empty net.
McDonnell added two more overs to his tally during the second quarter while Brad Green gave Australia some hope by scoring a goal.
Green fired into the empty net after Stephen Cluxton had miscued a shot.
The third period was goalless but Walsh added his third over of the day, while Kieran Donaghy, Glynn and McKernan contributed similar scores.
Glynn smashed a fierce left-foot effort into the top left-hand corner of the net early in the fourth quarter and Donaghy kicked an over soon after.
McDonnell found the net from an acute angle and the Armagh man then contributed another over.
Australia rallied with some consolation scores but Murphy popped the ball over the bar for the last score of the tie.
McDonnell top-scored for Ireland with 18 points while Green was best for Australia with 11 points.
The second Test will be held in Queensland on Friday 4 November.
Ireland: Stephen Cluxton, Ciarán McKeever, Finian Hanley, Neil McGee, Kevin McKernan, Pearse Hanley, Colm Begley, Zach Touhy, Tadhg Kennelly, Leighton Glynn, Tommy Walsh, Joe McMahon, Michael Murphy, Kieran Donaghy, Steven McDonnell.
Replacements: Brendan Murphy, Kevin Reilly, Karl Lacey, Darren Hughes, Eoin Cadogan, Aidan Walsh, Patrick Kelly, Eamon Callaghan, Emmet Bolton.
Australia: Matthew Suckling, Liam Shiels, Andrew Swallow, Ben McGlynn, Easton Wood, Mitch Robinson, Angus Monfries, James Kelly, James Frawley, Zac Smith, Bernie Vince, Jake King, Mark Nicoski, David Wojcinski, Stephen Milne, Richard Douglas, Robbie Gray, Brad Green, Shaun Grigg, Trent McKenzie, Robin Nahas, Jack Trengove, Callan Ward.
Attendance: 22,921