Ireland stroll to Rules series win over Australia
Last updated on .From the section Northern Ireland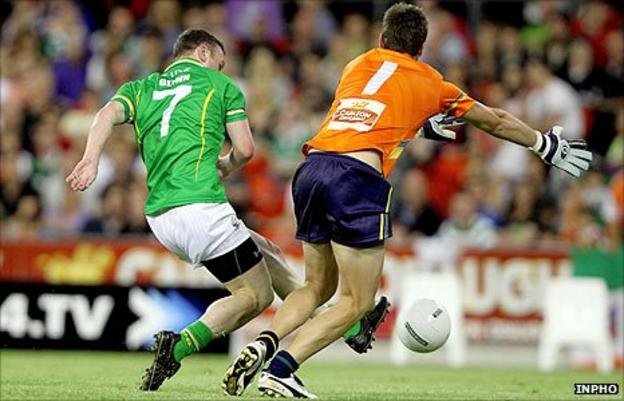 Ireland secured a comfortable 50-29 win over Australia in the second of the International Rules matches at Gold Coast, Queensland, on Friday.
It meant the Irish regained the Cormac McAnallen trophy with a record aggregate margin of 130-65.
Wicklow dual star Leighton Glynn scored the game's only goal towards the end of the second quarter.
There was never any hint that the Australians might eat into the 44-point deficit from the first meeting.
Anthony Tohill's Ireland led by four after the first quarter, were 34-23 ahead at halfway, and enjoyed a 41-24 cushion at the end of the third.
Armagh's Stephen McDonnell and Kerry man Tommy Walsh scored three overs each in a game which lacked a competitive edge.
"Our target was to win both games and we are pleased to have achieved that. We were by far the better team," said manager Tohill.
"It was full-on for a while and looked like ot might get out of hand.
"We prepared well and can enjoy our victory."
Second Test result - Gold Coast
AUSTRALIA 29
Goals: 0; Overs: 7; Behinds: 8
IRELAND 50
Goals: 1; Overs: 13; Behinds: 5
Ireland win 130-65 on aggregate