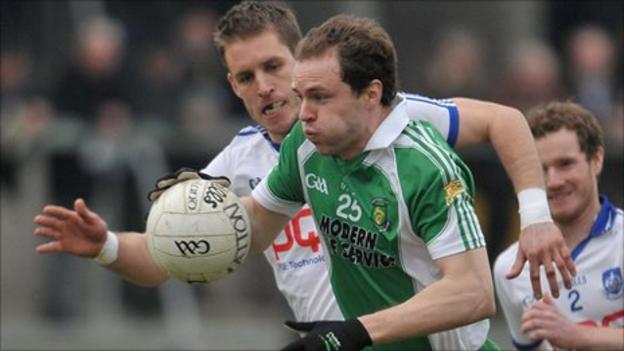 Burren set up a Ulster club decider against Crossmaglen after a narrow win in Sunday's semi-final in Armagh.
Shay McArdle blasted into the top scorner to help the Down champions to a 1-4 to 0-6 lead at the break.
Burren donimated after the restart and moved six points ahead before Mongahan side Latton fought back to reduced the gap to just two points.
Burren's Ciaran McGovern was sent off for two yellows and Eoin McCartan's straight red means he misses the final.
Both dismissals came in the last four minutes - McGovern will be available for next Sunday's clash at the Athletic Grounds but a McCartan's high tackle leaves him suspended.
The teams exchanged points until McArdle's powerful finish put Burren two in front.
Latton hit seven wides in the first half and with better finishing they would have held the half-time advantage.
Burren's blistering start to the second half proved decisive as they knocked over six of the opening seven points, with Conal McGovern scoring three.
Shane Coyle squandered a goal chance for Latton when he fumbled the ball after going clear.
But the Monaghan men kept pressing forward and Owen Duffy's two points started a comeback which just fell short.
Burren will be out for revenge against Cross after losing to the All-Ireland champions at the semi-final stage last year.
"It was tough and you are not going to get an Ulster semi-final victory handed to you on a plate," said Burren boss Frank Dawson.
"We're pleased with how the boys took the game to Latton in the second half.
"Our aim this year to was to get to the Ulster final - our aim now is to win it."