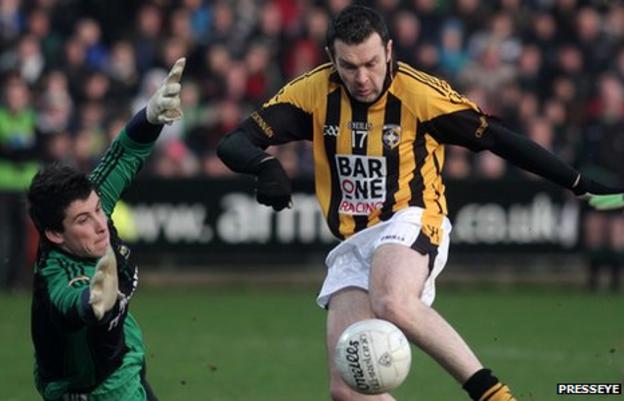 Crossmaglen retained their Ulster Club Football title as they proved too strong for 14-man Burren at Armagh.
Cross were already 0-4 to 0-0 up when Burren midfielder Anton McArdle was controversially sent off in the 15th minute after an off-the-ball incident.
After Burren did get off the mark, Oisin McConville's goal helped Cross lead 1-7 to 0-5 at half-time.
Burren cut the margin to three after the break but Cross regrouped and Kyle Carragher's goal sealed their victory.
Apart from a brief spell early in the second half, Crossmaglen controlled the game throughout but Burren manager Frank Dawson felt that McArdle's dismissal made an already difficult task "much harder".
Dawson said that the incident - which left Tony Kernan on the ground - had not been spotted by referee Martin Higgins but by a linesman some "80 yards away".
"You prepare all year for the biggest day in Ulster football but I find it hard to explain what happened in the first half," said an upset Dawson.
"I didn't see anything which merited Anton (McArdle) being sent off and neither it seems did the referee or the linesman who were 10 yards away.
"The decision was made by the linesman who was furthest from the action."
Burren were already in trouble by that stage after early scores from Aaron Kernan, man of the match Jamie Clarke, Aaron Cunningham and David McKenna.
After McArdle's dismissal, Aaron Kernan added a fifth Cross point before points from Donal O'Hare and Conal McGovern left a kick of the ball between the teams in the 19th minute.
However, Burren's mini-revival was abruptly halted by McConville's goal with the veteran rounding Cathal Murdock to score after a glorious Clarke pass.
Cross led by five at the break (1-7 to 0-5) and in truth they should have been out of sight by that stage as they had fired eight wides - several from excellent scoring positions.
McConville increased Cross' lead to six immediately after the restart but Burren responded to have their best period of the match as two O'Hare frees were split by a fine Kevin McKernan point.
McKernan's point had the appearances of a rallying score for Burren but he quickly faded from the contest as his expected big game failed to materialise.
Shea McArdle missed a chance which would have cut Cross' advantage to two after a great move and it proved another turning point in the match.
Burren keeper Murdock produced a great save to deny a Stephen Kernan piledriver but the custodian touched on the ground outside the small square as he attempted to gather from his own stop and McConville duly pointed the 13-metre free.
Further points from Aaron Kernan and his brother Stephen extended Crossmaglen's lead to six by the 54th minute with a couple of missed chances by O'Hare and Shea McArdle not helping Burren's fading prospects.
James McGovern had a sniff of a goal chance a minute later but he was crowded out of it by the Cross defence and had to settle for a point which left the margin still an out-of-reach five.
Carragher probably didn't know much about the second Cross goal that he was credited with as the ball appeared to deflect off his shin into the net after a crossed ball.
He was probably already looking forward to the Christmas break before work starts again for Cross' tussle with the Munster champions in February.