Tyrone funds in place for county's new GAA headquarters
Last updated on .From the section Northern Ireland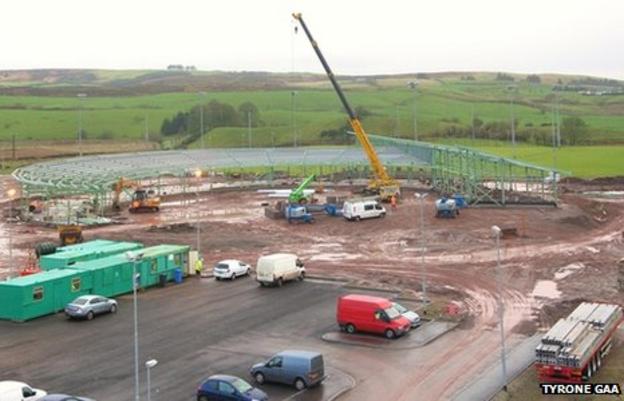 Tyrone GAA secretary Dominic McCaughey has revealed that funding has been secured to complete the county's new gaelic games headquarters in Garvaghey.
The Tyrone board have been waging a campaign to secure government funding for the £6.7m project but those efforts have so far proved unsuccessful.
In his annual report, McCaughey says this is "unfair and unreasonable".
However, he adds that the county has all the "necessary finances in place" to complete the Garvaghey project.
"A large percentage of this funding is a significant loan, that has been made available from the (GAA's) National Finance Committee in Croke Park at a favourable interest rate, which followed an earlier grant award of €2.15M via the Association's National Infrastructure & Safety Committee (NISC)," said McCaughey in his annual report which will be delivered to Sunday's annual convention in Donaghmore.
"We are sincerely grateful to Peter McKenna and Seamus McCloy of the NISC and to Tom Ryan and Kathy Slattery of (the GAA) Finance Committee for the work done in securing the delivery of both these monies."
The Tyrone secretary also expressed thanks to Omagh and Dungannon District Councils for respective grants of £50,000 and £25,000 for the project.
But he makes clear the county board's continuing unhappiness over the lack of government funding for the development.
"We must express our criticism of the lack of financial support, to date, provided to the Tyrone GAA Headquarters by the Government of Northern Ireland through its various Departments and associated bodies.
"It appears to be unfair and unreasonable that no funding programme is available to provide support to the largest sporting development currently being undertaken in Northern Ireland at a cost of £6.7m.
"We are aware of significant funding being readily available to projects including, Railway Preservation, the Grand Opera House, and the purchase and refurbishment of a boat used to ferry passengers to the Titanic in 1912 yet there cannot be any funding of the GAA's heritage and culture in Tyrone.
"Also, it is very difficult to readily see where in Northern Ireland there are over 30 other sports' projects that could be rated more highly by SportNI, this year, than that of Tyrone GAA's.
"We are not asking for special treatment for Tyrone GAA but simply fair consideration."
Work on the project commenced in April 2009.
The centre is earmarked to contain floodlit five sand carpet pitches, one floodlit 4G pitch, full team changing and support facilities plus Tyrone County GAA administration resources.
The site covers 43 acres and is fully-owned by Tyrone GAA.
Speaking in his annual report, county PRO Damian Harvey pays tribute to dignity of the Harte and McAreavey families in the wake of Michaela McAreavey's murder in Mauritius in January.
"We continue to be inspired by the dignity shown by the Harte and McAreavey families," said the Tyrone PRO.
"Errigal Ciaran (also) GAC stood tall and answered the call.
"The rest of Tyrone, Ulster and Ireland responded in turn.
"Words didn't come easy to anyone in those dark days.
"Michaela was a proud Tyrone Gael and she provided us with a wonderful template of how to go about living our life."