Assaulted referee Ray Matthews quits over appeal verdict
Last updated on .From the section Northern Ireland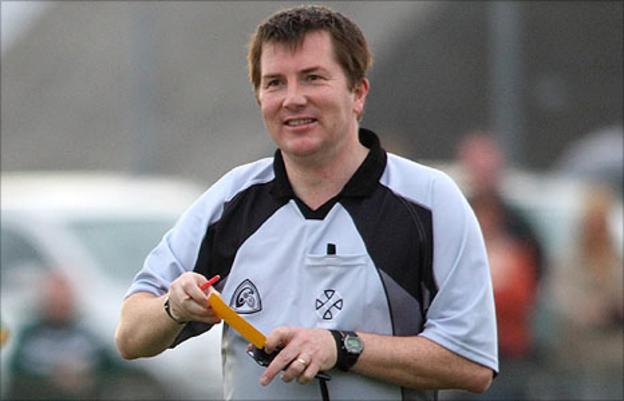 The referee attacked at an Under-21 game in October has resigned after the punishments handed out to the Rasharkin club were reduced by Ulster GAA chiefs.
Ray Matthews said he was extremely annoyed, disappointed and disgusted at the outcome of the club's appeal.
He added that he had feared for his life when he was assaulted after the Antrim U-21 semi-final in Ballymena.
Rasharkin will now be allowed to play in adult league and championship competitions in Antrim in 2012.
The county board had originally banned the club from all competitions above minor grade for the year.
Rasharkin's home ground will remain closed for senior matches next year and club's adult teams will have to play all their games at away venues.
The Ulster Council's appeal judgement said that any further transgressions over the next two years could see the original bans re-imposed.
The Antrim county board also has the option of appealing against the provincial body's ruling.
Rasharkin's appeal to the Ulster Council only concerned the sanctions handed to the club - not the hefty individual bans imposed on some club personnel.
The Antrim board expelled one player, two club members and a member of the Rasharkin coaching staff.
Matthews was taken to hospital after being assaulted at the end of the Antrim Under-21 championship semi-final game against Belfast club Lamh Dhearg.
Rasharkin remain banned from the Under-21 Championship.