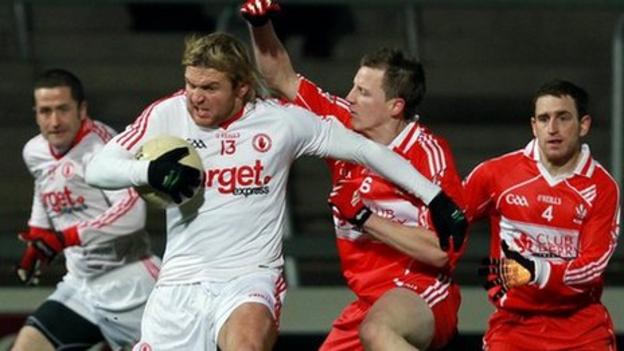 Tyrone captured the Dr McKenna Cup after defeating 14-man Derry in Saturday night's final in Armagh.
Paddy Bradley netted as Derry made a bright start and they were five ahead when James Conway was sent-off for a foul on Colm Cavanagh after 18 minutes.
The dismissal proved decisive and a Owen Mulligan goal helped Tyrone to go in level at 1-5 to 1-5 at the break.
The Red Hands surged clear in the second half and the game was won before Cailean O'Boyle's injury-time penalty.
Bradley's close-range finish on 15 minutes put the Oak Leafers in control but the game turned after Conway's straight red for the challange on Cavanagh.
The midfielder was making his first Derry start since sustaining a knee injury in last year's McKenna final win over the same opponents.
A Mark Lynch point edged Derry into a six-point lead but the extra man was soon evident as Tyrone closed the half strongly.
Mulligan's powerful shot sneaked under keeper Danny Devine and over the line before Cathal McCarron's point sent the teams in all-square.
Tyrone rattled off three early points in the second half through Stephen O'Neill, Mattie Donnelly and Mulligan.
Conleith Gilligan pointed for Derry but there was no stopping the Tyrone tide as they moved seven points clear.
O'Boyle's last-gasp penalty could not deny Tyrone revenge for the 2011 McKenna defeat to Derry.
Tyrone: J Devine, A McCrory, J McMahon, PJ Quinn, C McCarron, P Harte, D Carlin, M Murphy, C Cavanagh, M Donnelly, P Hughes, M Penrose, O Mulligan, M Donnelly, S O'Neill. Subs: P McConnell, A Cassidy, C Clarke, K Coney, J Lafferty, D McCaul, N McKenna, J McMahon, S McNulty, R O'Neill, Sean O'Neill.
Derry: D Devlin, D McBride, L Morrow, R Dillon, G O'Kane, B McCallion, B McGoldrick, J Conway, J Diver, C McKaigue, M Lynch, SL McGoldrick, C O'Boyle, Paddy Bradley, C Gilligan. Subs: P Morgan, A McAlynn, M Craig, C Murray, PJ McCloskey, Patsy Bradley, K O'Neill, M Bateson, N Forrester, E Lynn, E Brown.