Ian Hutchinson suffers sustains broken leg at Motorcycle Show
Last updated on .From the section Northern Ireland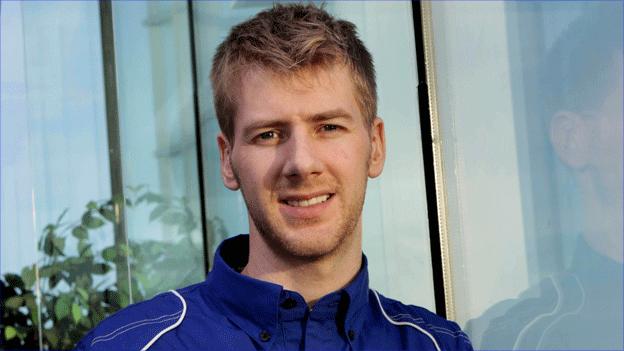 Ian Hutchinson has sustained a broken leg during a rehearsal for a London Motorcycle Show.
The multiple Isle of Man TT and North West 200 winner is reported to have twisted his leg awkwardly while riding an off-road bike during practice for a stunt show at the Excel Arena.
The leg is the same one he spent more than a year recovering from after being run over by a bike at Silverstone.
The fresh fracture is understood to be well away from the original breaks.
Hutchinson had signed to ride for the Swan Yamaha team for the 2012 season.
The Yorkshireman is scheduled to compete for Shaun Muir's outfit in the British Superbike championship, the North West 200, Isle of an TT and the Ulster Grand Prix.
The incident is understood to have taken place on Wednesday morning, although it is thought that Hutchinson did not crash, but just tweaked his leg.
Hutchinson crashed at Silverstone in 2010, just months after securing a historic five TT wins in a week.
Since his crash the eight-times TT winner has undergone 16 operations to fix his tibia and fibula and had to wear an external cage to hold the bones in place while they healed.
The 31-year-old returned to racing action in November and finished third in the Macau Grand Prix.
His participation in this season's major racing events must now be in serious doubt.