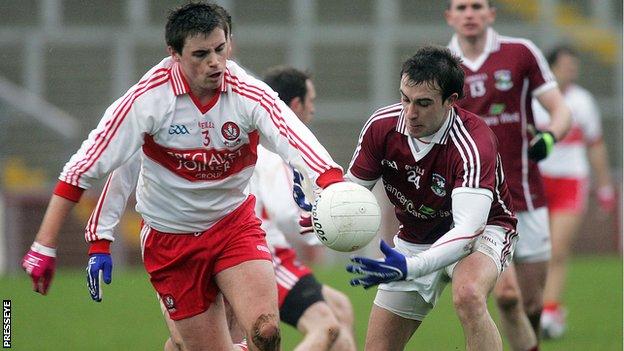 Derry's NFL Division 2 campaign started in disappointing fashion as they were decidedly second best against Galway at Celtic Park.
Caolan O'Boyle's goal helped Derry lead 1-3 to 0-3 but Gareth Bradshaw's goal sparked a Galway fightback as they moved 1-8 to 1-4 ahead by the interval.
Derry fought back to trail by one on a couple of occasions in the second half but could not get on terms.
Galway pulled clear again late on with Michael Martin finishing on 0-5.
Derry looked to have the initiative when Boyle fisted Paddy Bradley's long ball to the net on 17 minutes to put Derry three ahead.
However, it only served to spark Galway to totally dominate the second quarter as they outscored the home side 1-5 to 0-1.
Nicky Joyce was ably supporting Martin in the scoring stakes as the Derry defence appeared to have no answers.
John Brennan kept his Derry side in the dressing-rooms for some time at the interval and the presumably stern words appeared to do the trick immediately after the break as Mark Lynch, Chrissy McKaigue and even goalkeeper Danny Devlin notched scores to cut Galway's lead to the minimum.
However, the Derry defence was looking in trouble every time the Galway full-forward line got their hands on the ball and late points from Barry Cullinane, Martin, Joyce and Joe Bergin helped the Tribesman complete a convincing victory.