Keith Farmer plots British Superstock success in 2012
By Richard Petrie
BBC Sport NI
Last updated on .From the section Northern Ireland
Twelve months ago motorcycle racer Keith Farmer was preparing to take his first tentative steps into British championship competition, with just his dad as a sponsor.
A year later, the Clogher man's rapid rise to prominence has seen him crowned National Superstock 600cc champion and earn a coveted ride with the Paul Bird Motorsport Kawasaki team.
Previously better known for his Supermoto exploits, Farmer has the British 1000cc Superstock title in his sights for 2012, and is applying himself towards achieving that goal.
"I've been recovering from an operation to repair a torn cartilage in my knee, but it is pretty much 100% by now, I'm just working on getting it fully up to strength.
"I've been training hard in the last few months and been in the gym twice a day, so I hope that will bear fruit when it comes to adjusting to the 1000cc bike from the 600cc bike I've been used to riding."
Farmer comes from a family of outstanding racing pedigree, as his uncles Mark and Stephen both excelled in the pure road racing and short circuit forms of the sport, before their untimely deaths.
Keith began competing in the Ulster motocross championship in 1996 at just nine years of age, and finished fifth in his third year of racing.
The 24-year-old finished second overall in 2001 and went on to claim an Irish Supermoto title and three Irish Winter Series successes as he continued to excel in the off-road disciplines of the sport.
Farmer first dipped his toe into tarmac racing at Mondello Park, Kirkistown and Bishopscourt in 2010.
"One day my dad and Darren Gawley came home with an R6 Yamaha and I went straight into racing in the Irish Supersport 600 events.
"It was difficult to get used to the different riding style at first as I was accustomed to sitting up on the bike, and I did a lot of crashing that year."
It was in 2011 that Farmer really made his mark with a series of race wins in his first full season of competition at British level.
After failing to score any points in round one due to some mechanical problems, the Clogher man reeled off four consecutive victories, earning more sponsorship in the process.
A further two successes helped him win the championship with two rounds remaining, and he ended up almost 50 points ahead of compatriot Glenn Irwin in the final standings.
The highlight of the year was a race-long battle with Irwin at Silverstone, with Farmer coming out on top thanks to a pass on the second last bend.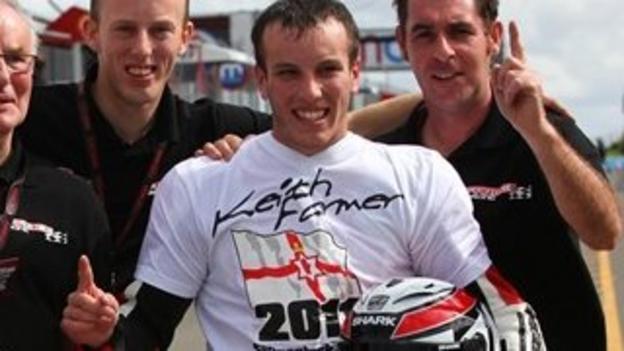 "I just tried to keep scoring points in every round and let everyone else around me make mistakes," said Farmer.
"I had to learn all the tracks on the BSB calendar last year so, from that point of view, I surprised myself with how well I went."
Farmer completed his successful season by winning the Adelaide Masters 600 Supersport Championship and rounded it all off by lifting a Merit Award at the Enkalon Irish Motorcyclist of the Year awards in January.
Now he is hungry for more success.
"The team have arranged testing dates for March in Aragon in the United States, Cartagena and Almeria, and then it's back for more testing at Brands Hatch and Snetterton before the season starts at Brands at Easter," explained Farmer of his pre-season preparations.
"I'll know all the circuits in the UK this year so that should help me get on the pace fairly quickly.
"A top five position is my realistic ambition for this year, but my mid-season I'd like to be challenging for race wins.
"It'll be tough though as there are a lot of quality racers in the series.
"It's a great confidence boost to have a major sponsor like Paul Bird supporting me and he has emphasised that he wants our association to last for more than just one year.
"Maybe I will get a couple of outings on a Superbike by the end of the year, I'll just wait and see."