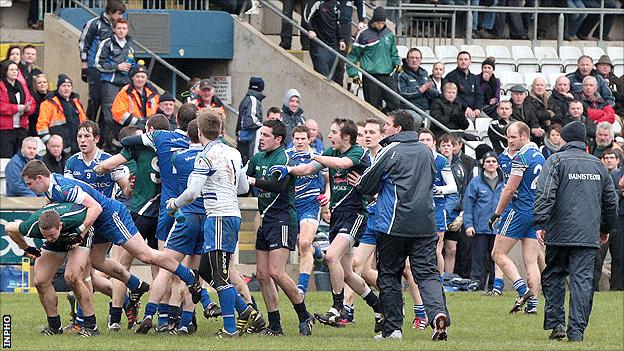 A mass brawl just before half-time saw a number of players booked and Brian Flanagan of Kildare sent-off in the Division Two match at Clones.
Referee Joe McQuillan dished out the cards when the players returned to the pitch for the start of the second half.
Monaghan were 0-9 to 0-6 up at that stage and, with Paul Finlay landing seven scores, went on to win by five.
The result got Monaghan off the mark in the National League as they had lost at Meath on the opening weekend.
David Hughes, Matthew McKenna, Dick Clerkin and Dermot Malone also got on the scoresheet for Monaghan.
Eoin O'Flaherty was Kildare's top scorer with five points.
The result meant back-to-back league defeats for Kieran McGeeney's Lilywhites as they had lost their opener to Tyrone.