Monaghan lose home advantage for Louth game after appeal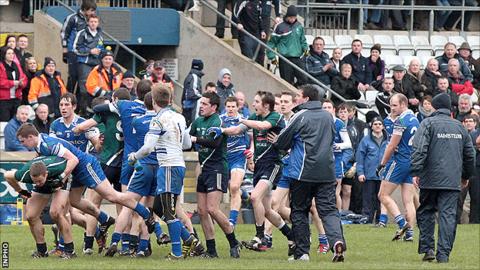 Monaghan's decision to appeal against the 5,000 Euro fine imposed following the recent brawl in the NFL game against Kildare has backfired.
The fine has been lifted but Monaghan have been told that they will instead forfeit home advantage for their next game against Louth.
Monaghan have confirmed that they are appealing against the latest decision.
Armagh may also now drop their appeal against their 5,000 Euro fine arising from their match against Cork.
Armagh county secretary Paddy Nugent told the Irish Independent that he hoped that their appeal "can be withdrawn".
The county are scheduled to host Mayo at the Athletic Grounds but if the GAA's Central Hearings Committee adopts the same stance that it took in the Monaghan case, the game could be switched to a venue in the west.
"If we had to go to Mayo, we'd be talking about accommodation, travel, more meals and bigger expense than we reckoned for - far in excess of 5,000 Euro.
"On top of that, there is 10 per cent lost on the gate and with a newly revamped ground, we want as many games played here as possible."
It has been confirmed that the red card handed to Cork's Paul Kerrigan in the game at the Athletic Grounds has been rescinded.
GAA president Christy Cooney has backed the Central Hearings Committee's decision to take home advantage away from Monaghan for the game against Louth.
"Based on the evidence presented to them in their review of the case, they made a decision that they felt was appropriate," he said.
"We have to get rid of so-called melees or major situations when all the players are getting involved in major fracas during games.
"We're sending out the wrong message and the wrong signal and it's bad for the image of the Association, so I think they've taken a course of action and I support fully the course of action that they've taken.
"People have a right if they feel they're hard done by.
"Of course, we'd like people to accept the punishment they get or is outlined for them, but they have a right to do it and a right to go to hearings and I respect that fully."
When pressed if Monaghan as the home team were being punished more than their opponents, Cooney stated the Lilywhites are also going down the appeal route.
"All I understand is that Kildare have looked for a hearing and that hearing hasn't taken place."
Fighting broke out at the whistle for half-time in the Monaghan v Kildare game and there was jostling as the players went down the tunnel.
Kildare selector Niall Carew was banned for four weeks after being dismissed and red-carded Lilywhites player Brian Flanagan is suspended for one match.
Monaghan pair Dick Clerkin and Dessie Mone were booked by referee Joe McQuillan at the start of the second half.