Ulster GAA president Aogan Farrell warns over indiscipline
Last updated on .From the section Northern Ireland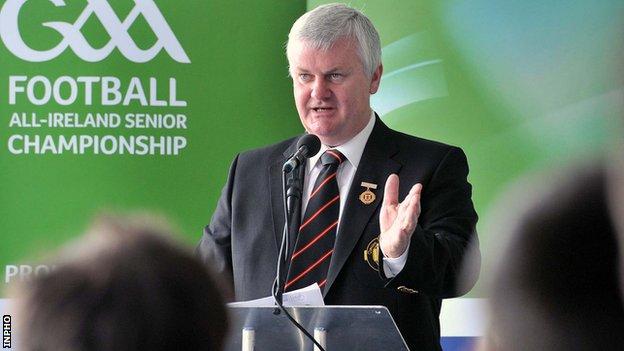 Ulster GAA president Aogan Farrell says the problem of indiscipline in the sport is being overshadowed by arguments over the rights and wrongs of penalties imposed on offenders.
"I am saddened by the tug-o-war questioning of CCCs of CHCs, CACs, DRAs and more," Farrell said at Saturday's annual Ulster Convention in Belfast.
"Argument over how to deal with indiscipline loses sight of the real issue, the real cause of the problem which is the original act of indiscipline itself."
"Justice must always prevail and players dealt with unfairly or harshly deserve their rights protected.
"I fear that in all the debate over process we may miss the real issue and that issue is the original aggressive act when it occurs.
"I don't believe we have a particularly acute problem with indiscipline in the GAA but when it does arise, we must all condemn it.
"Counties should ensure justice and fair play for their members but should never defend the indefensible.
"We all have a role to play, referees' decisions should not be challenged by you, senior county officers, this sends out all the wrong messages.
"Abusive supporters/mentors or officials need to be corrected.
"Our sidelines are overcrowded with an ever growing number of advisers, experts , statisticians and well-meaning enthusiasts."
In his wide-ranging address, the Ulster president also warned county managements against seeing third level institutions as "a threat to county panels".
"Counties should progressively approach fixture issues regarding young players at third level.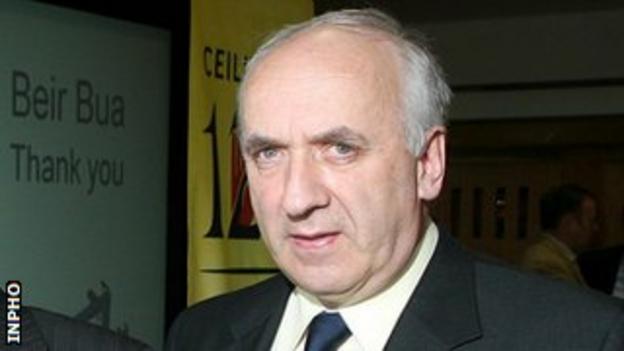 "These are the players where burnout is a very real issue.
"We cannot continue to place ridiculous demands on players at this level."
The Ulster GAA president made clear his opposition to the concept of GAA intercounty managers being paid, insisting that "we cannot allow this to happen".
Mr Farrell also hit out at current attempts to start a "a Gaelic officials association for referees, umpires and linesmen".
"What next, a county chairman's association, a gaelic lottery sellers society and perhaps a scor adjudicators union?
"We have one GAA for all and that should be enough for us all. Sectional interest groups will weaken the overall effort."
The Ulster GAA president paid tribute to provincial secretary Danny Murphy who was unable to attend Saturday's gathering at St Mary's University College because of illness.
"The absence of our esteemed secretary Danny Murphy casts sadness on our convention.
"I know you join with me in sending him our collective best wishes, our sincere thanks for his heroic contribution to the Ulster Council GAA and our prayers and goodwill for a speedy return to the helm at Comhairle Uladh."
Mr Farrell said that the Ulster secretary's vital input into the Casement Park Stadium project would prove his "crowning achievement".
"Danny has guided the project from its earliest days; he has been wise, reflective, strategic and at all times Danny has been true to GAA needs."