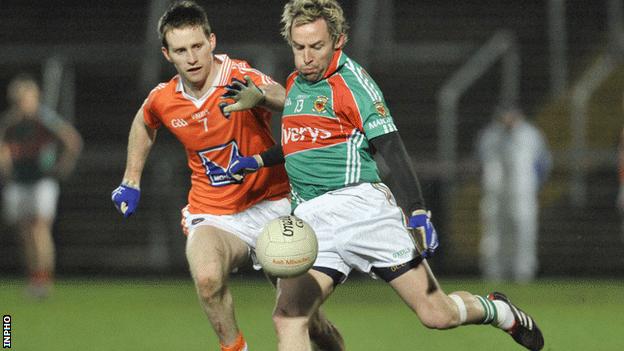 Armagh's unbeaten start in Division 1 of the Football League came to an end as they were well beaten by Mayo.
Three Alan Freeman points and an Andy Moran goal helped Mayo lead 1-4 to 0-0 at the Athletic Grounds.
Armagh replied with four unanswered points but Mayo regained control to lead 1-7 to 0-6 at half-time.
Mayo extended their lead to 1-11 to 0-6 and while Armagh replied with five straight points, the Connacht side hit the last three scores of the match.
Freeman's three opening points were followed by Moran's goal after Mayo goalkeeper David Clarke's 45 dropped short to the unmarked forward.
After another Enda Varley point, Armagh finally got out of the traps with four unanswered points which included two Brian Mallon scores.
Mayo regrouped with three straight scores but Aidan Forker brought his first-half tally up to three points with two scores before the break to cut the margin to four.
The visitors extended their advantage to eight with four unanswered points after the break - including two Conor Mortimer scores.
Armagh then threatened a comeback as they responded with five straight scores of their own with Colm Watters' two scores adding to three more Forker points.
But Mayo reasserted themselves to hit the three final scores of the match with Freeman bringing his tally up to five and Varley getting the last two points.
SATURDAY'S ALLIANZ FOOTBALL LEAGUE RESULTS
Division 1
Armagh 0-11 1-14 Mayo
Laois 1-9 1-14 Dublin
Division 2
Derry 0-14 0-8 Monaghan
Meath 2-11 0-18 Kildare
Division 3
Antrim 2-14 1-8 Offaly
Cavan 0-14 1-8 Sligo