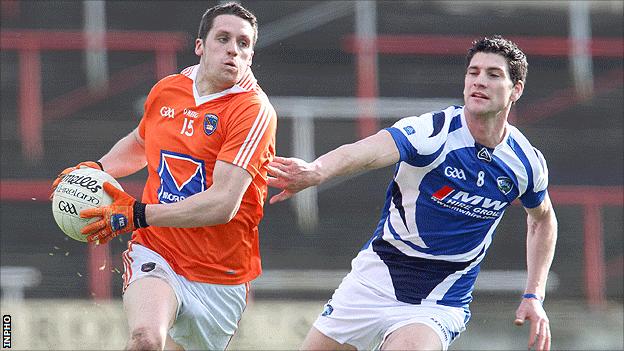 Armagh are in relegation trouble after a third successive defeat in Division One of the National League.
The Ulster county were three points down when they had skipper Ciaran McKeever sent-off as the teams came out for the second half.
Referee Michael Duffy showed the red card after a linesman had reported seeing the corner half-back throw a punch in the tunnel.
Finian Moriarty scored Armagh's goal with Paul Cahillane netting for Laois.
Despite the dismissal of McKeever, Armagh had threatened a gutsy comeback in the second half as they scored four of the five points immediately after Moriarty's goal.
Moriarty had found the net after Caolan Rafferty's shot had come off the crossbar.
However, Cahillane's goal effectively settled the contest in the home team's favour.
Afterwards Armagh boss Paddy O'Rourke said the red card had been a complete mystery to his players.
"Nobody seems to know what it was for, Ciaran McKeever doesn't know," he said.
"The referee did not see anything. Apparently something was reported to him."
O'Rourke admitted his Armagh team now faced a battle to retain their top flight status.
"We are in trouble but it is still all to play for.
"We have to try to win our last two games."