Aussie Rules legend Stynes dies
Last updated on .From the section Northern Ireland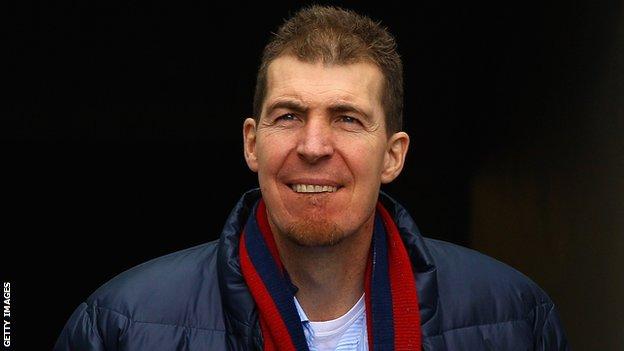 Australian Rules Football legend Jim Stynes has died after a long battle against cancer.
The Dubliner, who was 45, passed away in Melbourne on Tuesday surrounded by family and friends.
Stynes played youth gaelic football for his native county in Ireland before beginning an AFL career in Australia.
He played 264 games for Melbourne and won the prestigious Brownlow Medal in 1991 awarded to the player judged the best and fairest in the AFL season.
Stynes is the only player recruited from outside Australia to have won the Brownlow honour.
The Irishman revealed in July 2009 that he was being treated for a rare melanoma on his spine.
Despite his illness, he continued his widespread charity work and was a hugely respected figure in his adopted country.
In recognition of his popularity, the Baillieu government has offered to hold a state funeral for the football legend, which the family has accepted.
In a Facebook message, his wife Sam wrote that his death had been "pain free, dignified and peaceful" with his children "Matisse and Tiernan both present".
"In his last week of life Jim continued to defy the odds and lived his life to the fullest, attending the Melbourne vs Hawthorn football match, his son Tiernan's seventh birthday celebration, The MFC Blazer Ceremony and a casual Friday night dinner at Toplinos in his much loved suburb St Kilda," added his wife.
"In his final days Jim was immersed with insurmountable love and tenderness surrounded by his family and some close friends in the comfort of his own home.
"On behalf of Jim, my heartfelt thanks to all those who have so generously cared for, guided and supported Jim throughout his challenging cancer battle."
Australian Prime Minister Julia Gillard, cycling star Lance Armstrong and cricketer Shane Warne are among those to have paid tribute to the late Dubliner.
The prime minister called Stynes "a man who inspired fans across the nation".
Irish Justice Minister, Alan Shatter, who was a guest of the Australian parliament as part of the St Patrick's Day celebrations, said he was deeply saddened to hear of his death.
"Through his immense sporting achievements in the AFL and as a Brownlow Medallist, and subsequently through his work with young people with his Reach organisation, Jim touched the lives of many people," said Mr Shatter.
GAA president Christy Cooney also paid tribute to Stynes.
"He fought his illness the way he played his football, with honesty, integrity and consistency, and on its own his successful transition from our game to AFL footie was a statement about the man," added the GAA president.