Armagh climb down from Laois game racism allegation
Last updated on .From the section Northern Ireland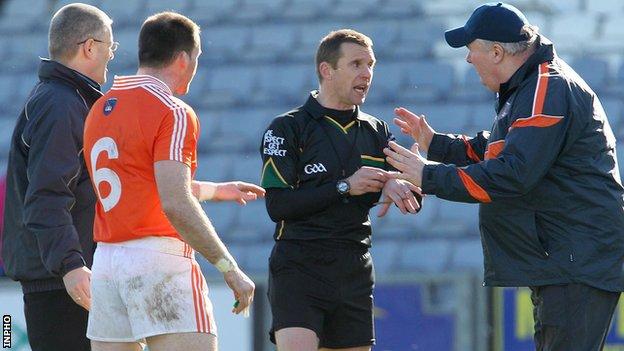 Armagh appear to have climbed down from their allegation that Ciaran McKeever received "racist and personal abuse" in Sunday's league game against Laois.
On Tuesday, the Ulster county released a lengthy statement claiming that McKeever had been verbally abused prior to his sending off at Portlaoise.
However, a further statement was released by the GAA on Thursday after a meeting between the counties.
The statement indicated that Armagh had rowed back from their Tuesday comments.
Thursday's communication was released by GAA headquarters and was described as a "joint statement on behalf of Armagh and Laois county boards".
"It was agreed that allegations made by Armagh county board in their statement do not accurately reflect what occurred in O'Moore Park.
"It is acknowledged by both boards that inappropriate verbal exchanges took place between players during the game and this will be addressed with our respective panels.
"Both Laois and Armagh are committed to the playing of our games in the best possible spirit and look forward to the continuation of a keen, sporting rivalry."
The controversy had earlier rumbled on with Laois GAA officials saying that there was "no evidence" that McKeever was accused of being British in Sunday's League game.
McKeever has been handed a two-match suspension arising from his straight red card.
Armagh assistant boss Paul Grimley has also been given a proposed three-month ban for post-match protests.
With GAA, overwhelmingly, played by members of the nationalist community, taunts such as those alleged to have occurred in Portlaoise, would be regarded as a form of verbal intimidation or 'sledging'.
The Armagh captain, who was sent-off for allegedly striking a Laois player in the tunnel as the two teams made their way off the pitch at half-time, has been cited for a Category Two offence which carries a one match ban.
However as he has already received a retrospective one match ban for an incident against Cork earlier in the campaign, the punishment is doubled up.
On Wednesday, Armagh confirmed they would seek a personal hearing for McKeever.
Grimley said that he would accept a four-week suspension for verbally abusing referee Michael Duffy but would appeal against the further two-month ban.
In the strongly worded statement on Tuesday, county secretary Paddy Nugent claimed that Armagh players were subjected to racist taunts.
''The chanting of 'God Save the Queen' and malign taunting has no place either on or off the field of play,'' he said.
Armagh secretary Nugent added that the taunts exemplified a "partitionist mindset" contrary to the GAA ethos.
Given that no sanctions have been imposed on Laois following the game, it appears that the alleged taunts have not been mentioned in the referee's match report.
Grimley has claimed that both the referee and a linesman were aware that taunts were being directed at Armagh players.