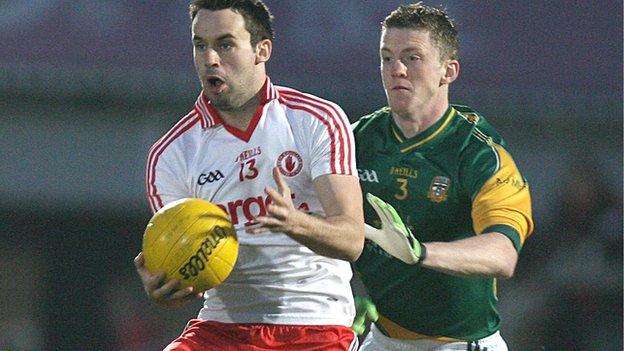 Tyrone enjoyed another easy outing in NFL Division Two with this comfortable victory at Healy Park.
Stephen O'Neill fisted in the only goal of the game after five minutes as the hosts took an early grip of affairs.
Tyrone were 1-6 to 0-3 ahead at half-time with Sean Cavanagh and Kyle Coney among the scorers.
The Ulster side surged clear and Meath's Kevin Riley was sent-off for two yellows on 50 minutes as Tyrone made it six wins from six matches.
"The players worked very hard and that's what won us this game," said Tyrone manager Mickey Harte.
"We learnt we need to be more proficient in front of goals although when Meath lost their man it was difficult not to become complacent."
Tyrone: J Devine, A McCrory, Justin McMahon, C Gormley, C McCarron, P Harte, R McMenamin, A Cassidy, C Cavanagh, R McNabb, Mark Donnelly, S Cavanagh, K Coney, N McKenna, S O'Neill.
Meath: D Gallagher, M Burke, K Reilly, C King, S McAnarney, B Menton, D Tobin, T Walsh, M Ward, S Kenny, S Bray, G Reilly, P Gilsenan, J Queeney, C Ward.
Allianz National Football League fixtures/results
Saturday 24 March - 1900 GMT
Division One
Armagh 1-14 0-16 Down (Athletic Grounds)
Dublin 2-16 0-13 Donegal (Croke Park)
Division Two
Tyrone 1-12 0-5 Meath (Healy Park)
Division Three
Tipperary 0-12 0-12 Longford (Semple Stadium)
Division Four
Limerick 1-14 1-18 Waterford ( Gaelic Grounds)
Sunday 25 March - 1430 BST
Division One
Kerry v Laois (Killarney)
Mayo v Cork (McHale Park)
Division Two
Derry v Louth (Celtic Park)
Monaghan v Galway (Inniskeen)
Kildare v Westmeath (Newbridge)
Division Three
Offaly v Sligo (Tullamore)
Antrim v Wexford (Casement Park)
Roscommon v Cavan (Dr Hyde Park)
Division Four
London v Clare (Ruislip)
Carlow v Wicklow (Dr Cullen Park)
Leitrim v Kilkenny (Carrick-on-Shannon)