John Laverty set for comeback in BSB races at Brands Hatch
Last updated on .From the section Northern Ireland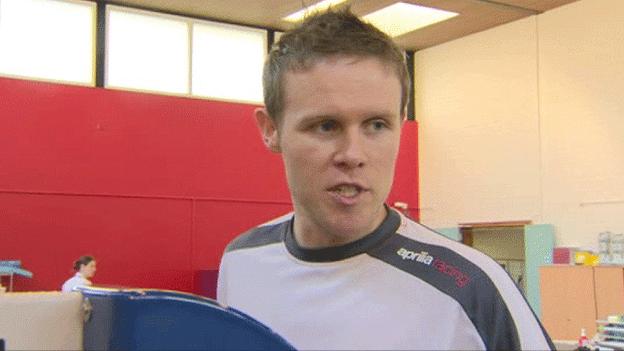 John Laverty will make his racing comeback in the opening round of the British Superbike Championship on Easter Monday.
The Toomebridge man will race in the colours of new team Splitlath Redmond in the Brand Hatch event on 9 April.
Laverty, 29, has made a remarkable recovery from serious injuries sustained in a high-speed crash at Oulton Park in July 2011.
"Eight months ago I was on the critical list," said Laverty.
Along with Splitlath Redmond, Laverty has recently been testing the Aprilia RSV4 race bikes at the Snetterton circuit.
"It is very positive how far I have come now and to be racing on Easter Monday is a bit special to say the least."
Laverty praised the role which the physio department at the Royal Victoria Hospital in Belfast had played in his return to the track.
"My recovery is a credit to the staff there," he added.
"I was worried I might not make it back, but I always had in my mind I would regain full fitness.
"My target was to get back racing this year, even though it seemed a bit of a long shot.
"I have maybe overachieved on what I had expected. I feel strong and ready to go again this season."
Laverty sustained a broken pelvis, two broken ankles, a fractured right knee, broken ribs, two dislocated shoulders and fluid in his lungs in last year's accident.
During his rehabilitation, Laverty benefited from using a NASA designed rehabilitation treadmill, which was being tested at the Belfast hospital.
The equipment, originally designed to assist in training astronauts, allows patients who have sustained breaks and fractures and in some instances multiple traumas, to rehabilitate in a zero-gravity weightless environment.
This helps them make a faster recovery.